Q8 MAX DC 1000W Lipo Battery Charger,LCD Display Digital Smart Battery Balance Charger
Regular price

$109.99

Sale price

$89.99
▶【New Generation of Pocket Charger】: 1000W high power,Max 33A charging current,support 2~8S/1~16S batteries.

▶【Lights off in the dark,introducing the dark mode】: scOS 2.0 new dark mode feature.Suitable for low light scenario,System will adjust the interface in dark tone,Reduce light damage to user's eyes.While remaining the iconic and comfortable charging display style.

▶【5V/2A USB output】: Q8 Max equipped with 5V/2A USB output port, For mobile device charging.

▶【IPS Screen:Low power consumption】: 2.4" IPS screen,Auto-brightness adjustable, 178° visible angle,Display clear and distinct ,Even in varies hard environment or angles.As well as in strong sunshine.

▶【Advanced crafty cooling air duct 】:Active cross-flow cooling air duct design,Initiative ball bearing cooling fan,with accurate designed aluminum alloy fins and Hi-Tech silicon heat conduct pad,built up a High efficiency heat dissipation system
Product description
Specifications:
Input voltage: DC 10-34V
Maximum input current: 33A
BattGP Support Smart Battery: Suport input and output
Output voltage: 1-34V
Charging current: 0.2-30.0A
Discharge current: 0.2-3.0A
Maximum load capacity: 1000 W
Max. Discharge capacity: 30 W
Compensation current: 1.5A / cell Max
Balance cells: 2-8S
Battery Type: LiFe, Lilon, LiPo(1-8S), LiHV (1-7S); NiMH, Cd (1-16S); Pb (1-12S)
Display: 2.8 inch 320 x 240 IPS LCD
Operating temperature: 0-40 °C
Storage temperature: -20 - 60 °C.
Dimensions: 95 x 95 x 45 mm
Weight: 288g
Languages: English, German, French, Spanish, Japanese, Traditional Chinese, Simplified Chinese
Package includes:
1 x ISDT Q8 Max balance charger.
1 x manual
DELIVERY

For non-pre-sale products, ISDT processes the order within 2-3 working days after the order was placed, once confirmed, we will ship it according to the order time.

We provide 3 shipping methods:

Shipping Method and Estimated Shipping Time:
Standard Shipping: 7-15 working days
Fast Shipping: 3-7 working days
Expedited Shipping: 1-3 working days
The shipping time should be subject to the time announced by the shipping company. Once the products of your order leave our warehouse, the actual delivery may be affected by events which are beyond our control. Thus, we do not assume any responsibility for any delay in delivery due to unexpected logistics related events.

If any logistics delay occurs, you may send an email to isdt0506@gmail.com, and we will do our best to contact the logistics company to help resolve the issue.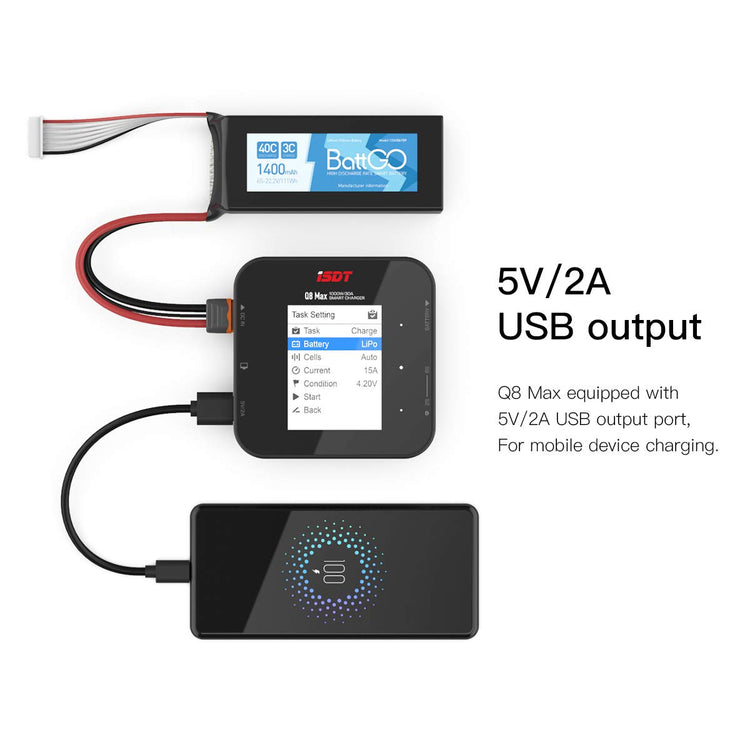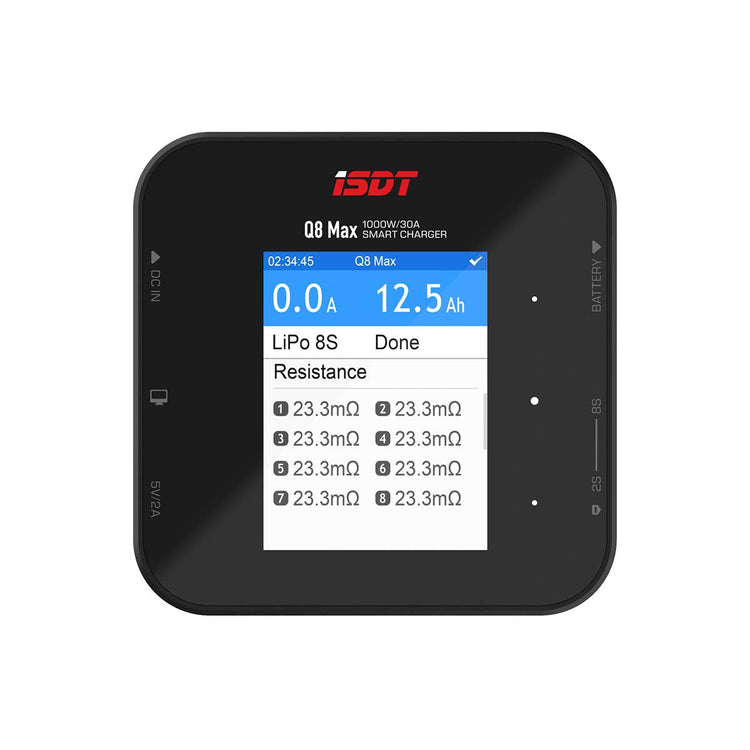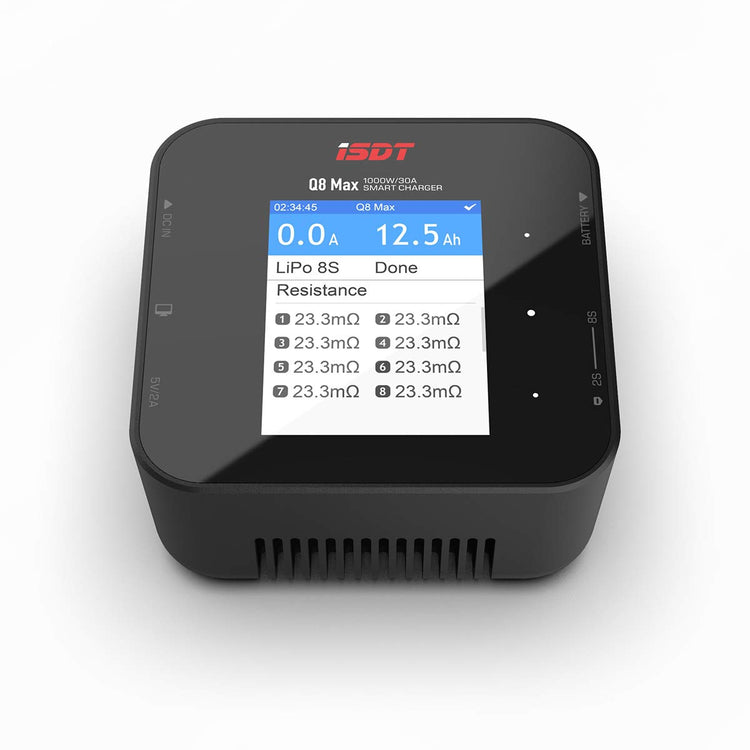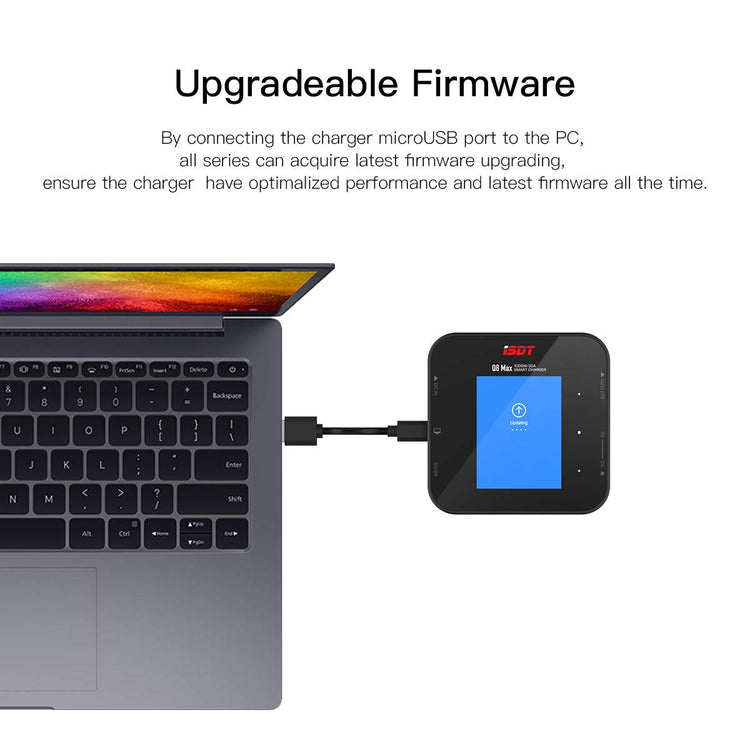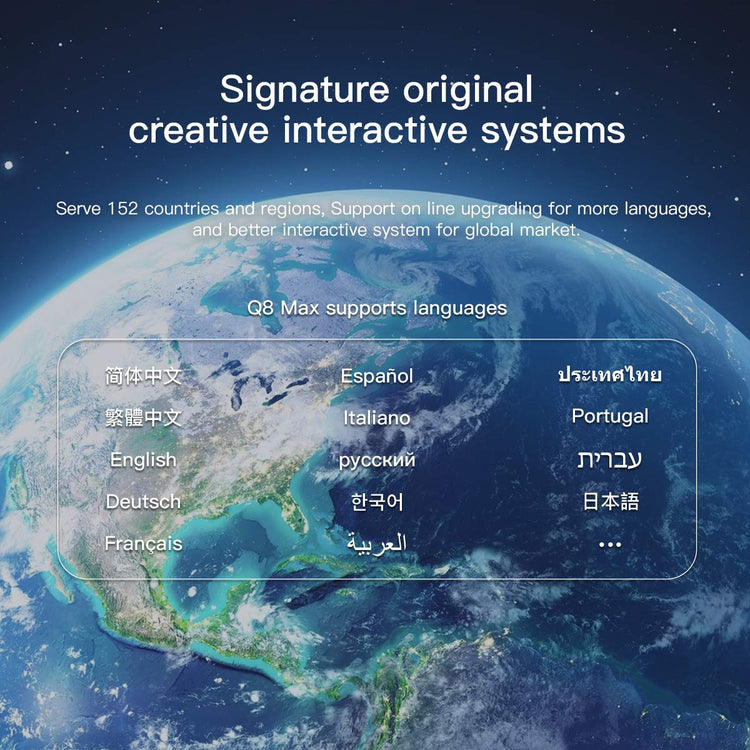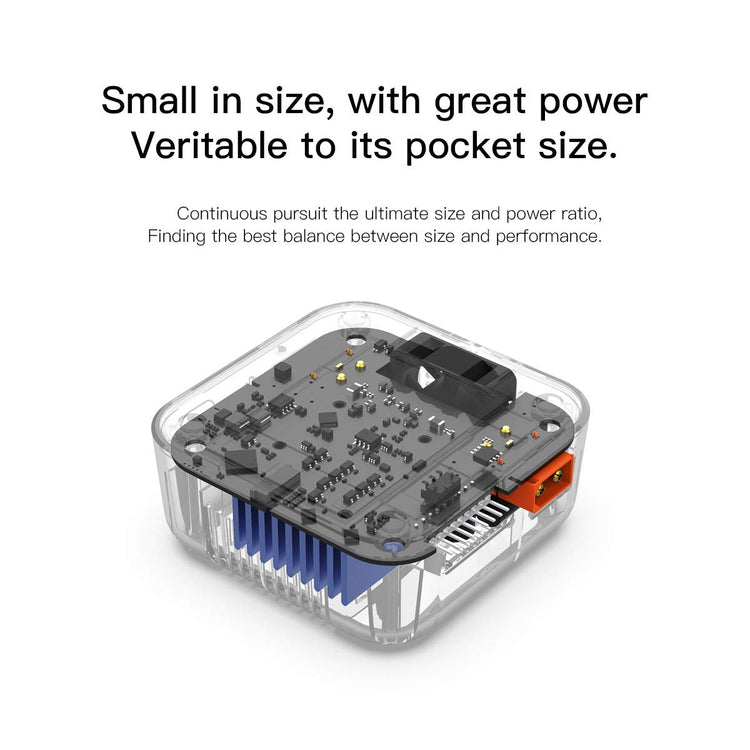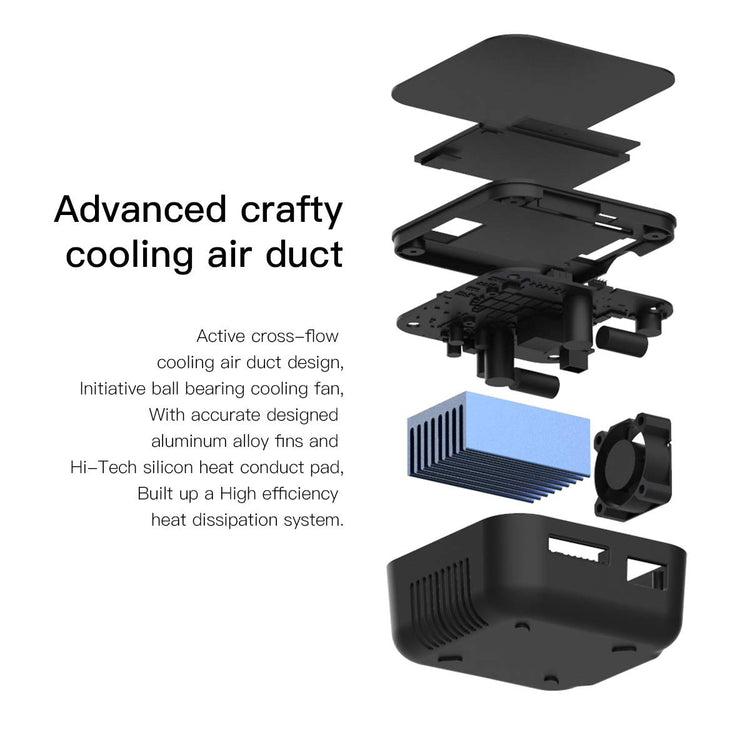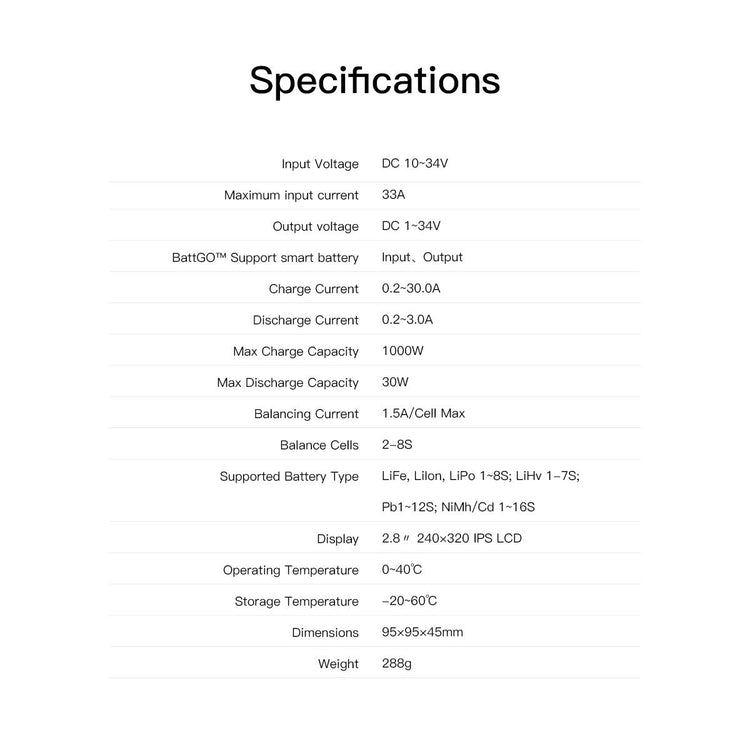 Guarantees
Genuine Guarantee
Fast Processing
Fast Delivery
Official After-sales
Testimonials



pricey but it definitely does the job

it really can sustain a 20amp output and it accurately measures the voltages on the balance cable.
If the display actually went to 3 decimal places instead of just 2 it would be perfect.
It can both reduce and boost the incoming voltage as needed to match whatever you set as the output voltage.

it costs a bit but it is very nice product.

Jim
Portable and reliable

Great charger best bang for your buck. Would recommend to a friend. Keep in mind you will need a psu or an external battery to make this changer go. Easy and portable.

Dogboyaa1
One great charger

This is an excellent charger. I am most impressed by its 1000W capacity. I purchased a second one for charging 22Ah 6S LiPOs. I highly recommend this product.

Outdoor Enthusiast