K1 Lipo Battery Balance Charger,1-6S AC 100W DC 2 x 250W 10A Smart Charger
Regular price

$119.99

Sale price

$84.99
√√ ISDT is renowned for its ergonomically designed, small, state-of-the-art battery chargers and accessories. The K1 smart charger continues this great pedigree of efficient and user-friendly chargers.

√√ Dual Channel Charger: The ISDT K1 is a simple to use, no-nonsense dual input (AC/DC) charger that can charge two battery packs simultaneously. It has the ability to charge 2 x 6S LiPo, LiIon, LiFe, or LiHV , 10S Pb, or 16S NiMh/NiCd battery packs at up to 10A.

√√ Intelligent independent charging system: Each channel can operate independently of each other, meaning that two different sizes or different chemistry batteries can be charged at the same time. You can even combine both channels in parallel for synchronous balance charging to achieve even more output power. The max charging current on AC power is 100W per channel, and on DC power it is 250W per channel.

√√ Port Design: Outputs include 2 x XT60 male connectors for charging, 2 x XH-JST 6S balance ports, and a micro USB port for updates. The power input of 10~30V (DC) is connected to the charger via a female XT60 connector , and for AC use a mains power lead with a UK plug is supplied.

√√ Strong cooling: To cater for better cooling, the unit has a carefully designed, and optimized internal structure. This is coupled with a ball-raced fan to promote an active cooling system.
Product description
Features:
Will operate from DC and AC power sources
Ability to charge 2 battery packs independently
Can charge 2 different chemistry batteries simultaneously
Will charge 2 x battery packs at up to 250W per channel on DC power, or 100W per channel on AC power
Easy to use push-button programming
Color LCD display screen with wide viewing angle
Ball-raced fan promotes efficient, active cooling
Specs:
Model: ISDT K1 Dual Port 1~6S 100~250W x 2 AC/DC Smart Charger 
Input Voltage: 10~30V DC/100~240V AC
Output Voltage: 1~26.4V DC
Max Input Current: 20A
Charging Current: 0.2~10A x 2
Max Charging Power: 100W AC/250W DC x 2
Balance Current: 0.5A/Cell
Supported Battery Types & Cell Count: 1~6S LiPo/LiIon/LiFe/LiHV, 1~10S Pb, 1~16S NiCd/NiMh
Display: Color LCD
Operating Temperature: 0~40°C
Storage Temperature: -20~60°C
Dimensions: 135x115x49mm
Weight: 485g
Included:
1 x ISDT K1 Dual Port 1~6S 100~250W x 2 AC/DC Smart Charger 
1 x AC mains power lead / plug
Note: A copy of the user manual is available under the "Files" tab.
DELIVERY

For non-pre-sale products, ISDT processes the order within 2-3 working days after the order was placed, once confirmed, we will ship it according to the order time.

We provide 3 shipping methods:

Shipping Method and Estimated Shipping Time:
Standard Shipping: 7-15 working days
Fast Shipping: 3-7 working days
Expedited Shipping: 1-3 working days
The shipping time should be subject to the time announced by the shipping company. Once the products of your order leave our warehouse, the actual delivery may be affected by events which are beyond our control. Thus, we do not assume any responsibility for any delay in delivery due to unexpected logistics related events.

If any logistics delay occurs, you may send an email to isdt0506@gmail.com, and we will do our best to contact the logistics company to help resolve the issue.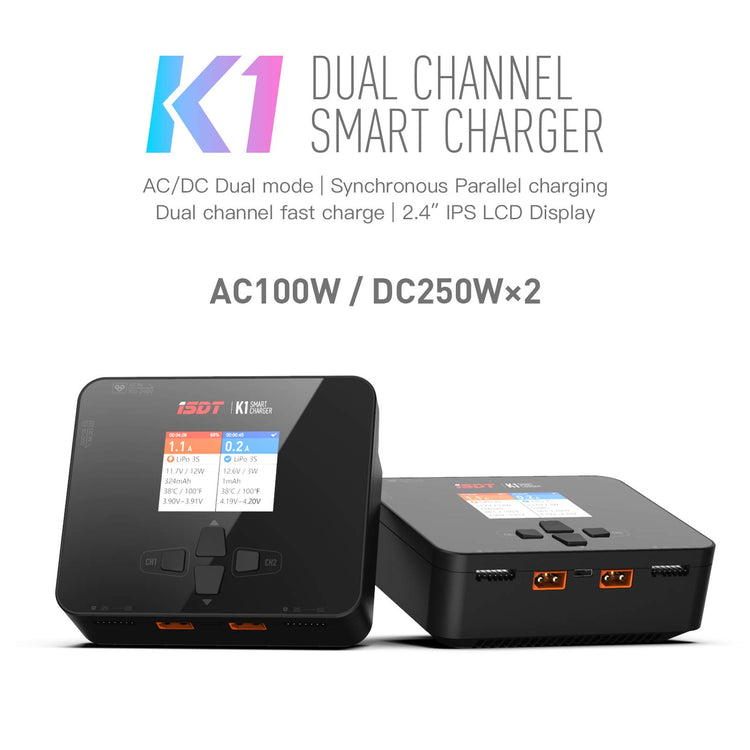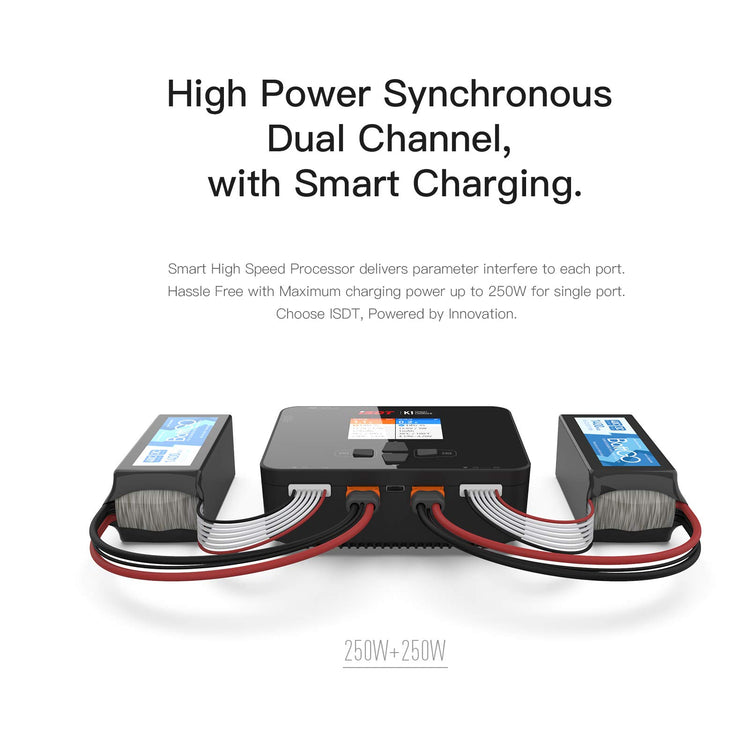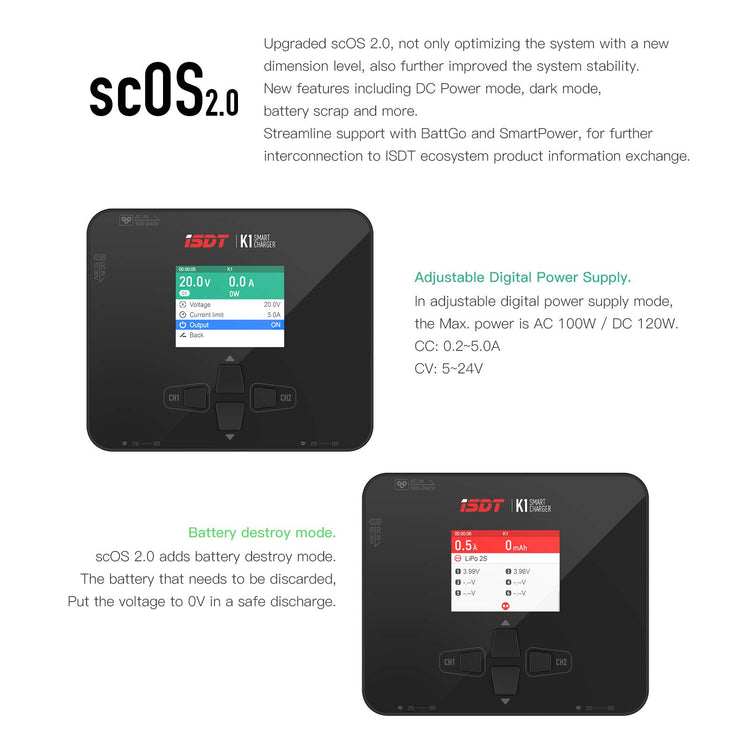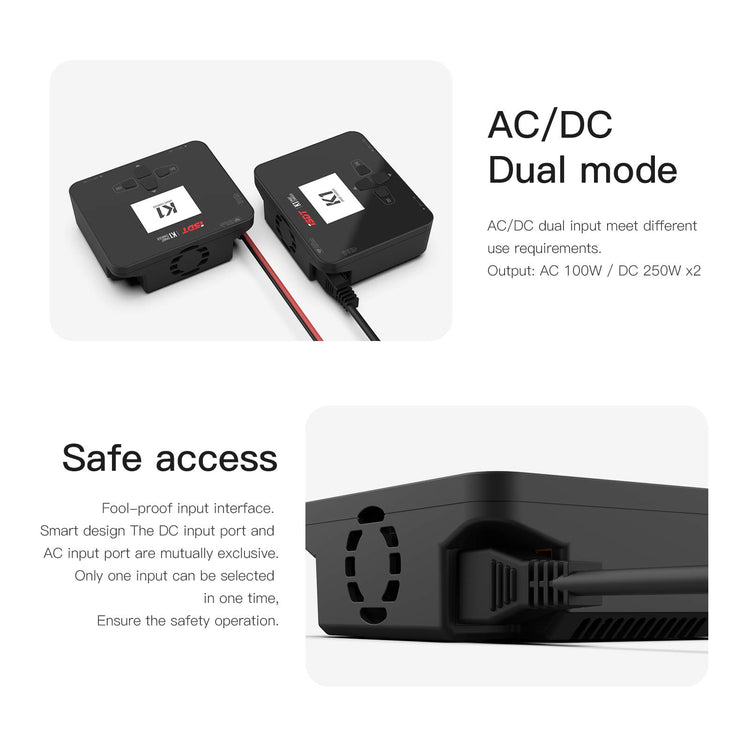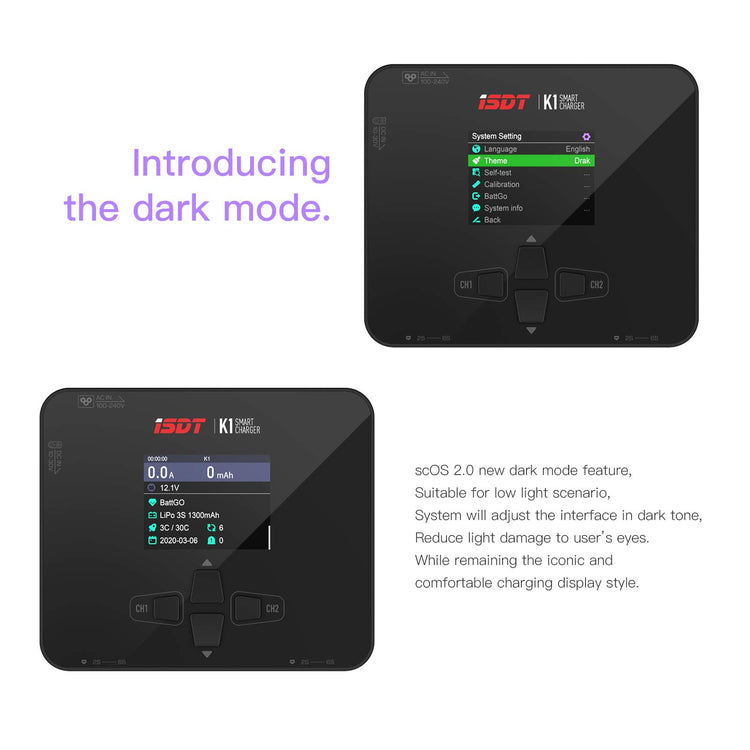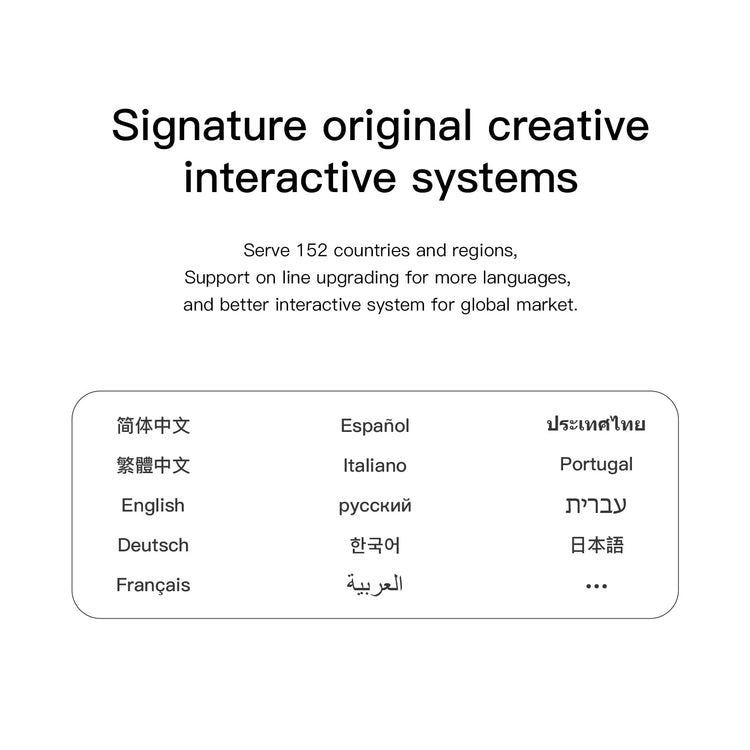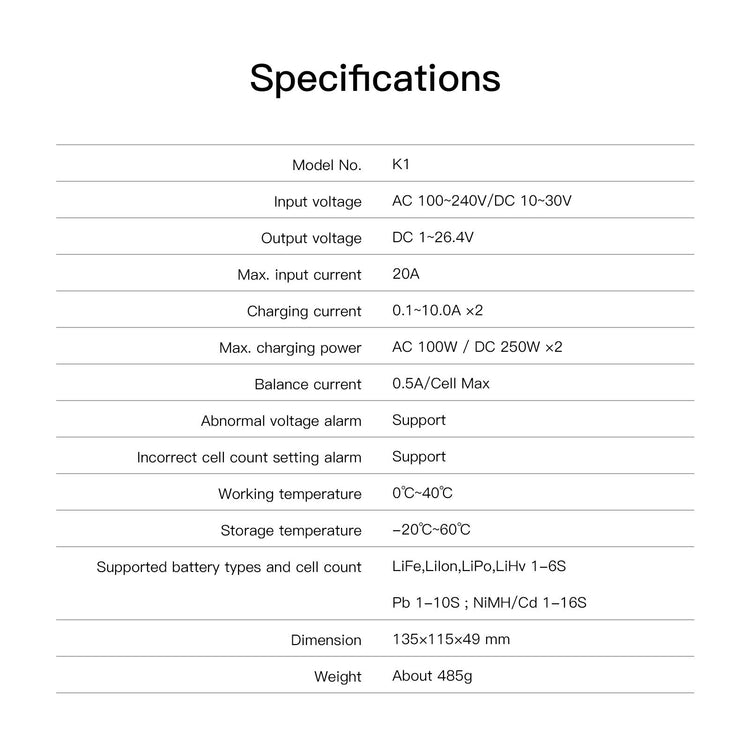 Guarantees
Genuine Guarantee
Fast Processing
Fast Delivery
Official After-sales
Testimonials


ISDT ist halt klasse

Ein top Ladegerät.. Smartcharger sind keine Ladegeräte.. das sollte jeder wissen. Akkus werden im Betrieb entladen. Und falls mal einer voll bleibt, gibt es geeignete entladen..

Das K1 hat ein top Preis/Leistungsverhältnis.


Karl D.
Lädt zuverlässig und schnell!

Lädt zuverlässig und schnell. Dass kein Entladen möglich ist, war mir vor dem Lauf bekannt.
Hoffe es hält lange.

Flieger Manne