Power 200X USB C Charger,140W MAX Output Phone Charger with 4 USB+1 Wireless Charger Ports,LCD Display Multifunction Desktop Charger
Regular price

$129.99

Sale price

$113.99
⚡⚡【USB C 200W High Power Charger】: This ISDT Power 200X charger with 200w total output,3 USB C ports independently provide up to 65W/65W/140W of charging power,USB A charger plug can charge up to 24W,and the wireless charging port can charge up to 15W.Charge your phone/laptop/wireless earphones/electric toothbrush and other electronic devices safely and quickly.

⚡⚡【4+1 Ports USB C + Wireless Charger】: With 200w total output ,this iphone Charger charges 5 devices simultaneously with their full speed,Each charging output interface is independent of each other, and charging multiple devices at the same time will not cause frequency reduction,let you really enjoy the fast charging technology,it makes your desk neatly. Adapters, wires and devices do not mess up any more, free you up a comfortable office space.

⚡⚡【Real-time Work Power, Panoramic View in Eyes】:Visualize the charging process through UI, the working status on each channel, the real-time power, all are visible at a glance.And APP connection(ISD Link) makes your mobile phone a second operation screen, check the real-time charging progress, export the instantaneous power table, and the OTA upgrade are all by your hand.

⚡⚡【Universal Compatibility】: This 200W Type C Charger compatible with MacBook Pro 16 ", MacBook Air 13", HP Specter, Huawei MateBook, NoteBook, iPad Pro, iPhone 14 Pro / 14 / 13 / 12 / 12Pro / 12 Mini / 12Pro Max / 11/11 Pro / 11 Pro Max, AirPods Pro,Galaxy S22 Ultra / S22 / S21 / S10 / Note 10, Google Pixel 6, Huawei P40 / P30 Pro / Mate 30, Mate20, compatible with XiaoMi Mi 11/10, Note 10,Air Pod,iWatch etc.

⚡⚡【Cool Enough,Power Enough】: With a silent turbo fan, the temperature plummets by 30°. Make it cold enough to run with full power, durability and stability.We let long-lasting high-power charging really achieved on using.7 days/24 hours full power export Overheat protection triggers after 2 hours of full power operation, charging stops,make your charging work fast and safe.

⚡⚡【Surprise】: Our Power 200H/X comes with two 100W/240W USB C charging cables, so you don't need to buy additional charging cables to meet all your charging needs.

【Note】If you do not need the prompt sound of charging start and charging completion, you can set the sound to be turned off in the mobile APP (ISD Link).
Product Parameters:
Input Voltage range:AC100~240V
USB-A supported quick charging protocols:QC3.0/QC2.0
USB-C supported quick charging protocols:PD3.1/PD3.0/PD2.0/PPS,QC4+/QC4/QC3.0/QC2.0,AFC, FCP, SCP,PE2.0/PE1.1,SFCP, BC1.2
Wireless charging maximum output power:15W
Total output power:200W
Working temperature:0~40°C
Storage temperature:-20°C~60°C
Size:105x105x40.6MM
Weight:430g
Q1: How many charging ports does this Power 200 charger have, can it be used for iPhone 13 and Mac Book?
Single port maximum output power:
Power 200H/100W
Power 200X/140W
Comes with two USB C cables:
Power 200H-100W USB C Cable(0.5/1.2m)
Power 200X-240W USB C Cable(0.5/1.2m)
What's in the box?
1 x Power 200X Charger
1 x Plug
2 X 240W USB C Cable
DELIVERY

For non-pre-sale products, ISDT processes the order within 2-3 working days after the order was placed, once confirmed, we will ship it according to the order time.

We provide 3 shipping methods:

Shipping Method and Estimated Shipping Time:
Standard Shipping: 15-20 working days
Fast Shipping: 7-15 working days
Expedited Shipping: 3-7 working days
The shipping time should be subject to the time announced by the shipping company. Once the products of your order leave our warehouse, the actual delivery may be affected by events which are beyond our control. Thus, we do not assume any responsibility for any delay in delivery due to unexpected logistics related events.

If any logistics delay occurs, you may send an email to isdt0506@gmail.com, and we will do our best to contact the logistics company to help resolve the issue.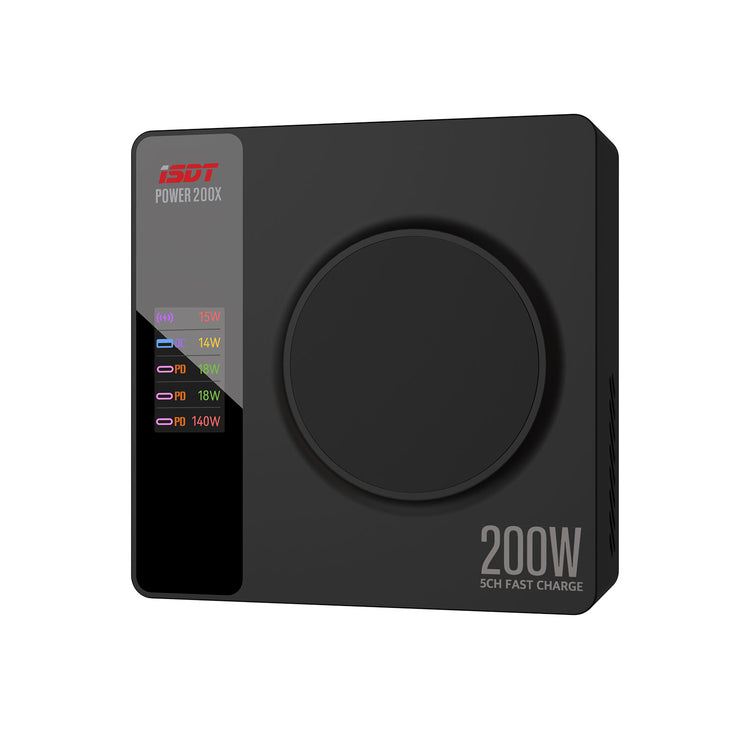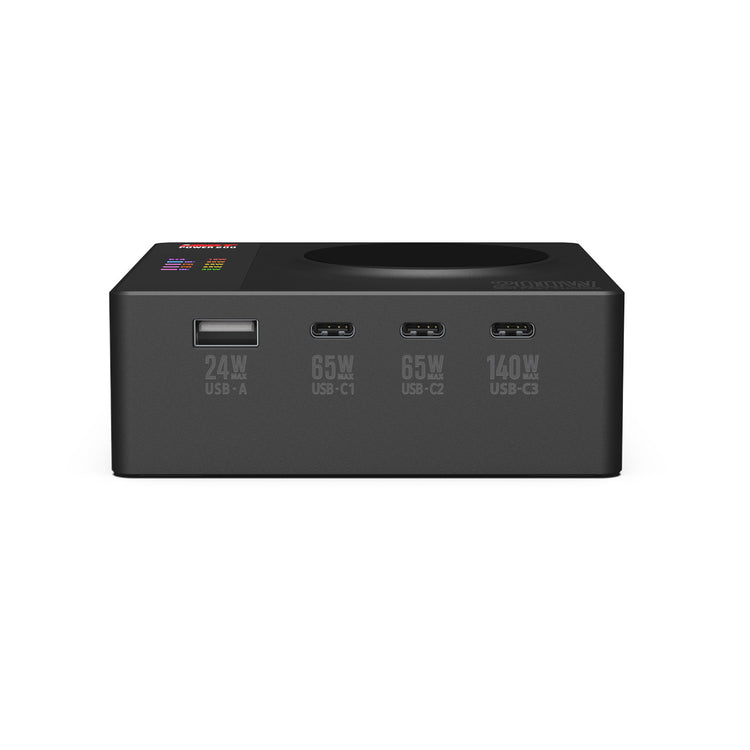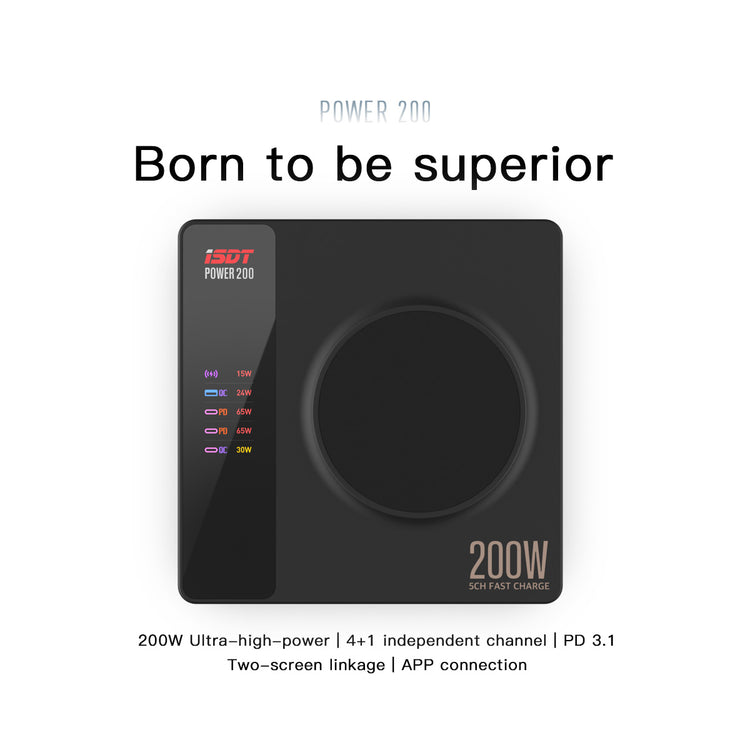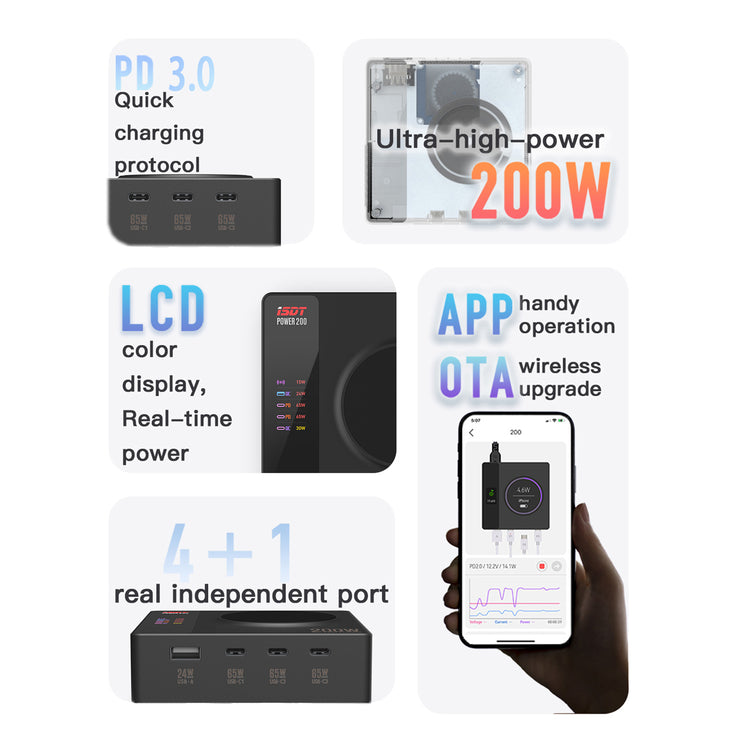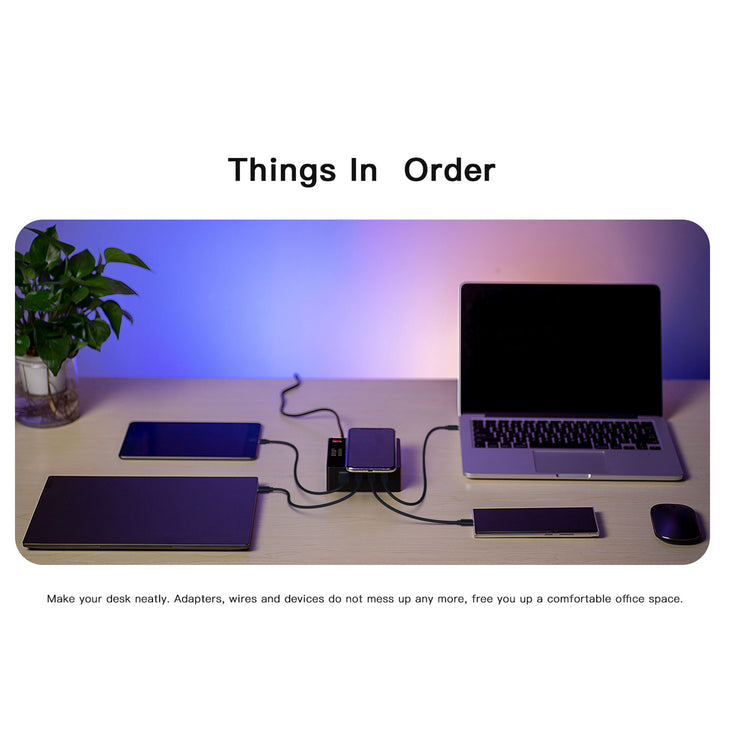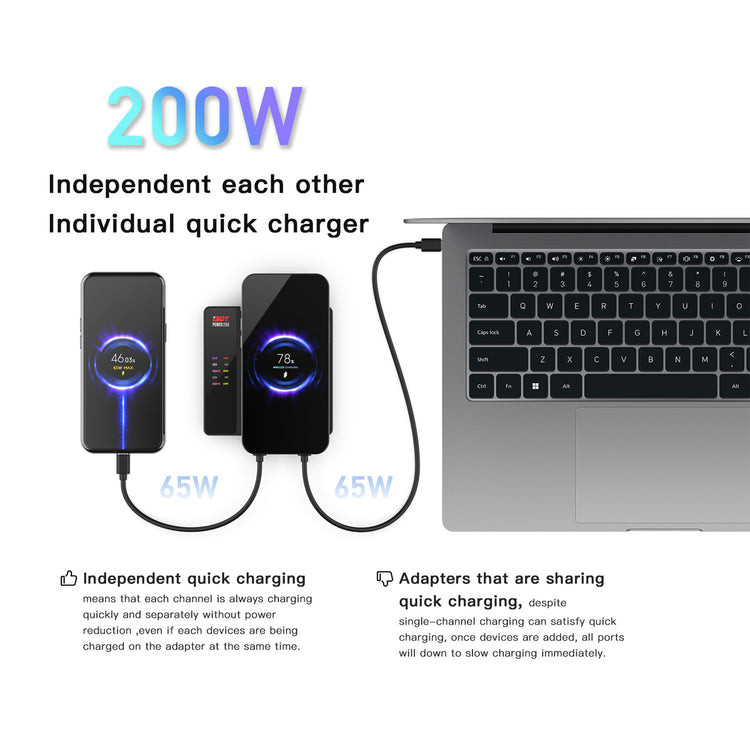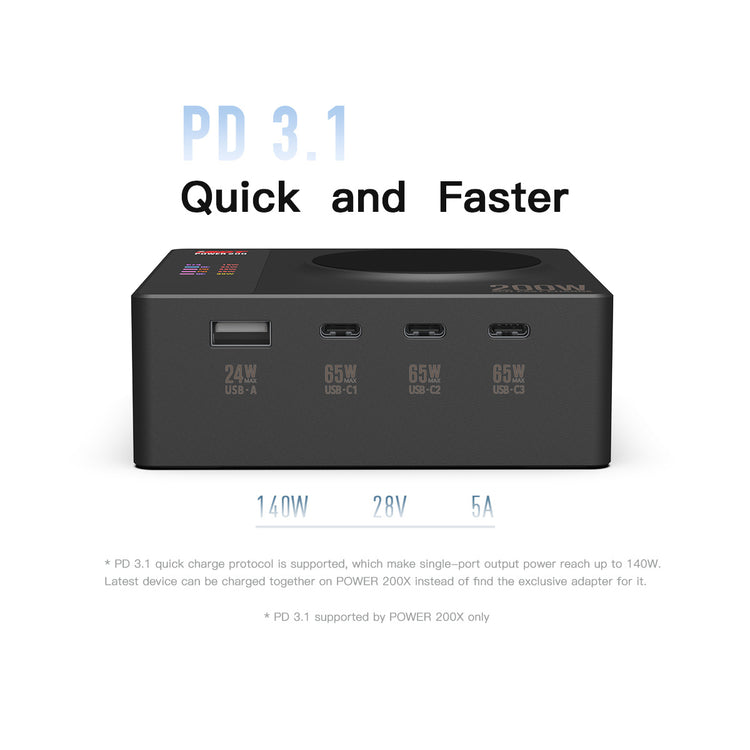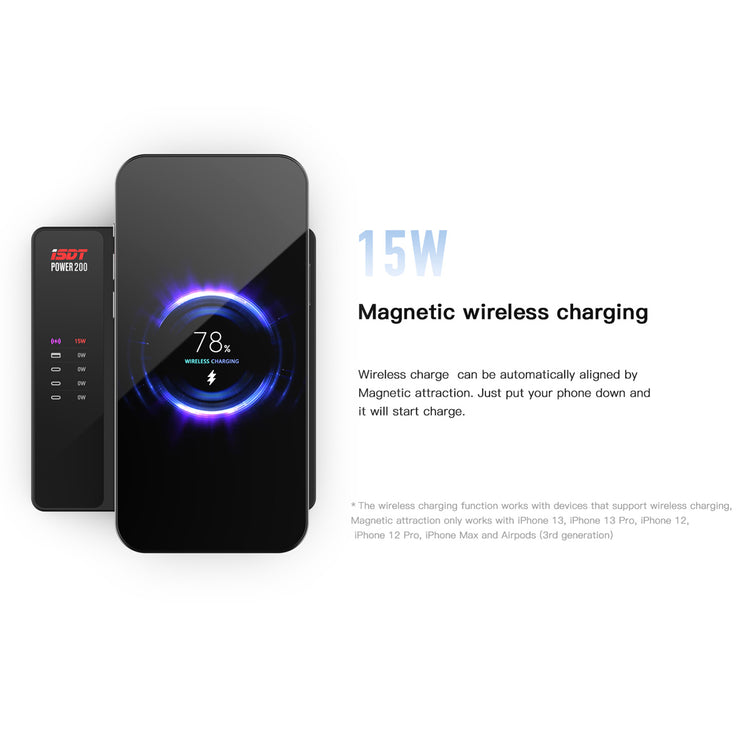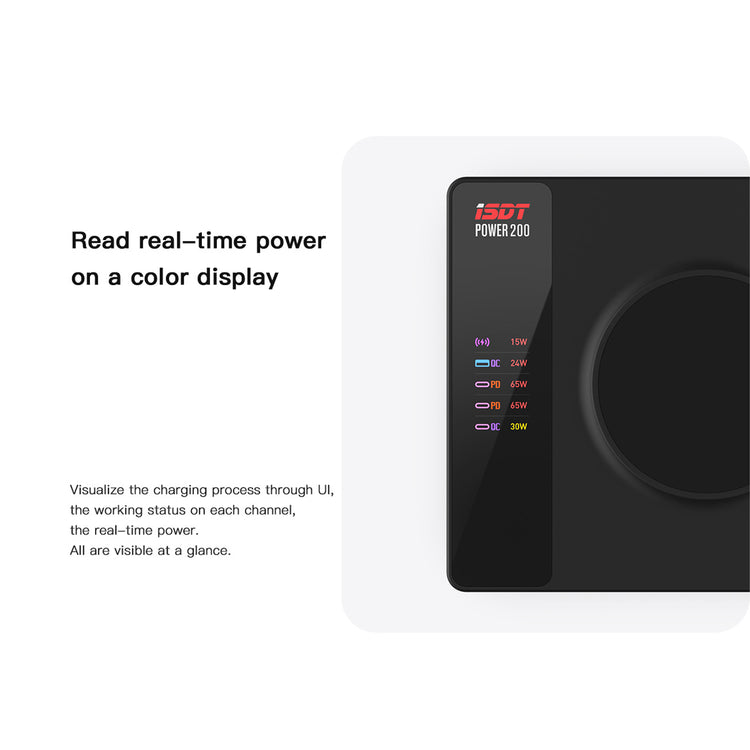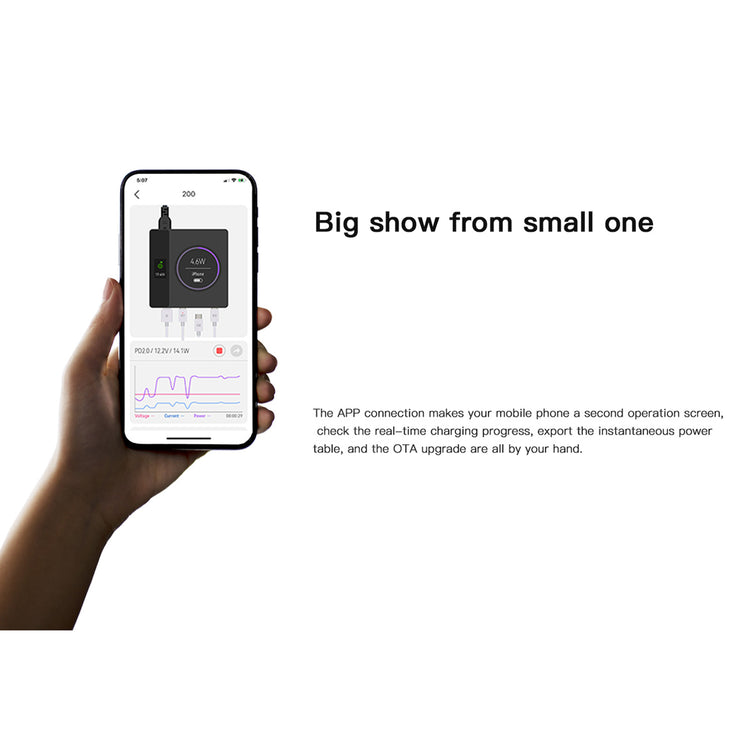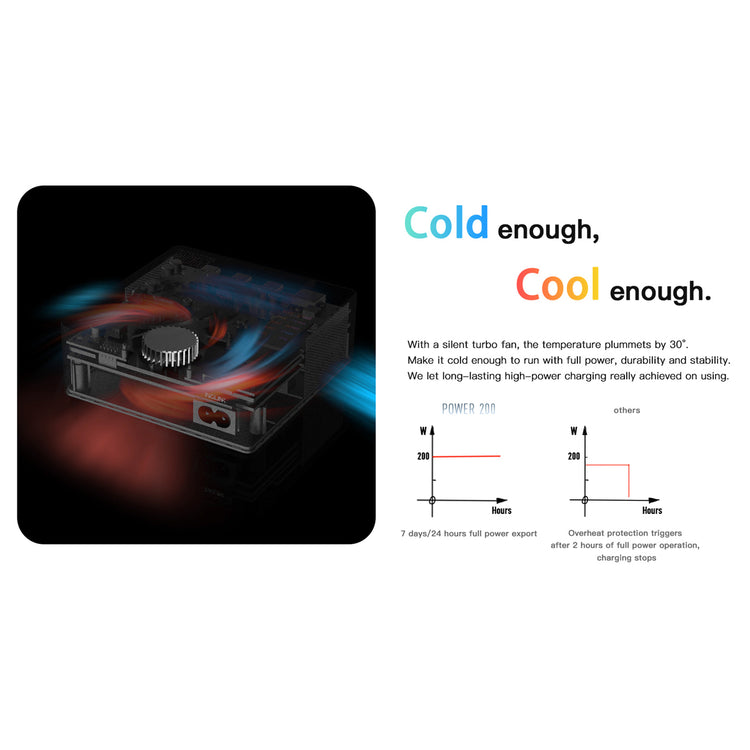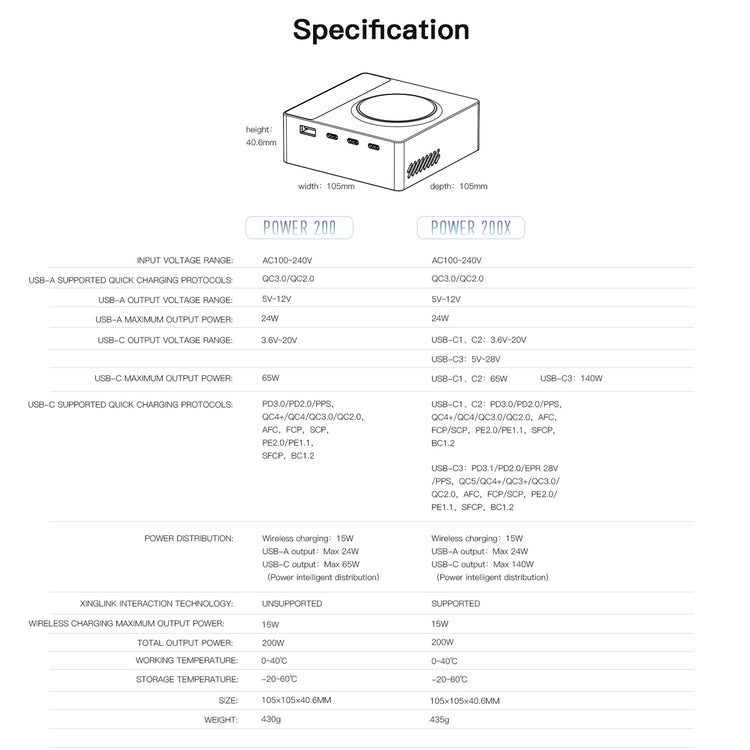 Super flexible and great fro travel
Have a 200X - use it to charge phones, Surface pro, ipad at same time. Bought a second one for travelling overseas where we ditched all the other chargers and even used it as a laptop charger. Worked great in Asia, Europe and USA. Cut the cable clutter!
Disappointing
Have various ISDT products and they've always been decent. Thats not the case for the 200X. Does not charge correctly. I have been in touch with ISDT. They asked for videos which i provided. Every port just goes into constant reboot except usb-c #2. I also have a 175W GaN charger that works perfect on same devices.
Very nice charger.
Used on everything and wow this is great, have a 100w usb charger that got very hot when in use but this has cooling fan so the unit just gets warm..
Tried all devices I own but my Samsung watch will not use wireless charger, was hoping it would.
Very pleased with the quality, display and recording charging history..
Would recommend to anyone..
Very usefull
Good solution for everyone , for house, for traveling.
Guarantees
Genuine Guarantee
Fast Processing
Fast Delivery
Official After-sales
Testimonials
Add customer reviews and testimonials to showcase your store's happy customers.

Author's name
Add customer reviews and testimonials to showcase your store's happy customers.

Author's name
Add customer reviews and testimonials to showcase your store's happy customers.

Author's name
Add customer reviews and testimonials to showcase your store's happy customers.

Author's name
Add customer reviews and testimonials to showcase your store's happy customers.

Author's name