608 AC Lipo Battery Charger,AC 50W/DC 200W Dual Mode RC Discharger/Charger
Regular price

$69.99

Sale price

$59.99
⚡⚡【AC/DC dual mode free switching】 Detachable power supply, merge and split easily for quick shifting on AC/DC dual mode, meet the fast charging requirements of different working scenarios.

⚡⚡【Smart identification】 Great smart battery tech, automatically identify battery types, auto match charging parameters, let you experience the thrill of instant charging and ensure safe charging, extending the life of your battery.

⚡⚡【Convenient operation】Roll and press to start, easy to use, convenient operating. One-click direct control, safe and fast.

⚡⚡【Adjustable Digital Power Supply】 In adjustable digital power supply mode, the charging power is AC 50W / DC 200W. CC: 0.2~5A, CV: 2~30V.

⚡⚡【One-key Shuttle Control】 Tired to fumble and push with finger tips& Difficult press now is replaced with smooth and natural single shuttle control, One-key Shuttle Control, makes charging with 608AC a joyful.
Features:
1. Classic "Shuttle Roll" design button, perfect for one-handed operation.
2. AC/DC dual mode, meet different working scenarios.
3. Adjustable power supply mode.
4.Detachable module power supply design.
5. Battery breastfeeding discharge model.
Specifications:
Charging capacity: AC 60 W DC 200 W
Charging current: 0.1A ~ 8A
Discharge capacity: 10 W
Discharge current: 0.1 A ~ 1 A
Input voltage: AC 110 V ~ 220 V / DC 10 V ~ 30 V
Output voltage: DC 1 V ~ 26.4 V
Support battery: LiFe, Lilon, LiPo, LiHv 1-6S / Pb 1-12S / NiMH 1-16S
Package Included:
1 x ISDT 608AC charger
DELIVERY

For non-pre-sale products, ISDT processes the order within 2-3 working days after the order was placed, once confirmed, we will ship it according to the order time.

We provide 3 shipping methods:

Shipping Method and Estimated Shipping Time:
Standard Shipping: 15-20 working days
Fast Shipping: 7-15 working days
Expedited Shipping: 3-7 working days
The shipping time should be subject to the time announced by the shipping company. Once the products of your order leave our warehouse, the actual delivery may be affected by events which are beyond our control. Thus, we do not assume any responsibility for any delay in delivery due to unexpected logistics related events.

If any logistics delay occurs, you may send an email to isdt0506@gmail.com, and we will do our best to contact the logistics company to help resolve the issue.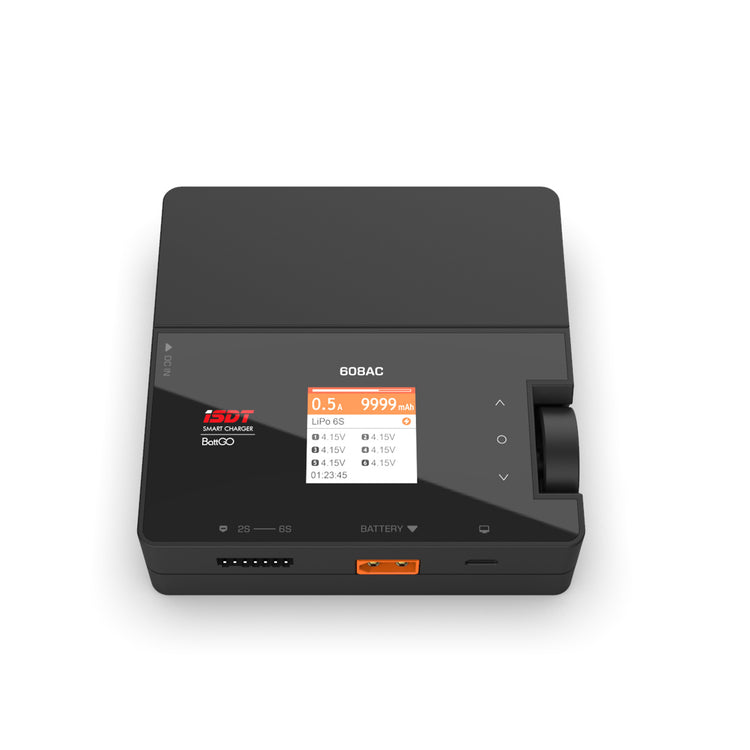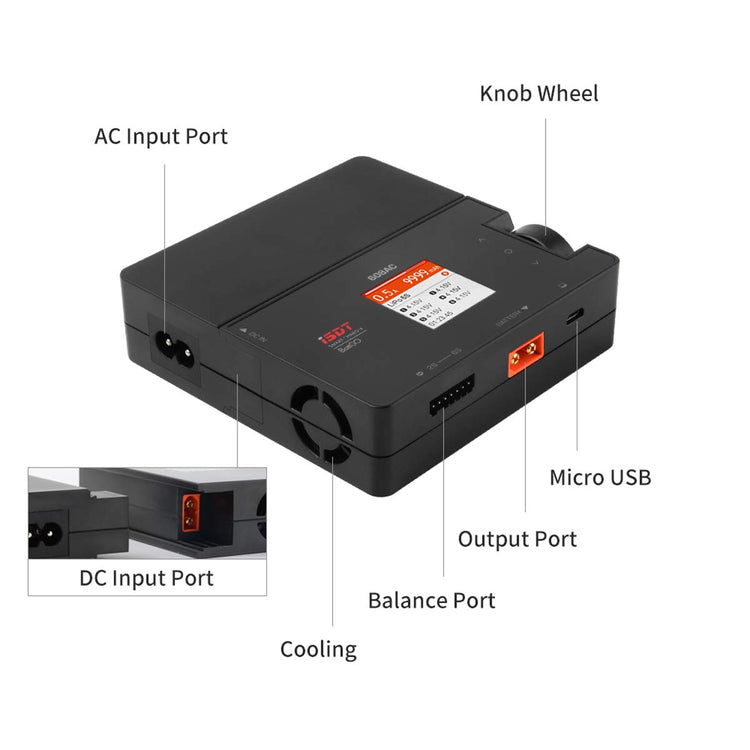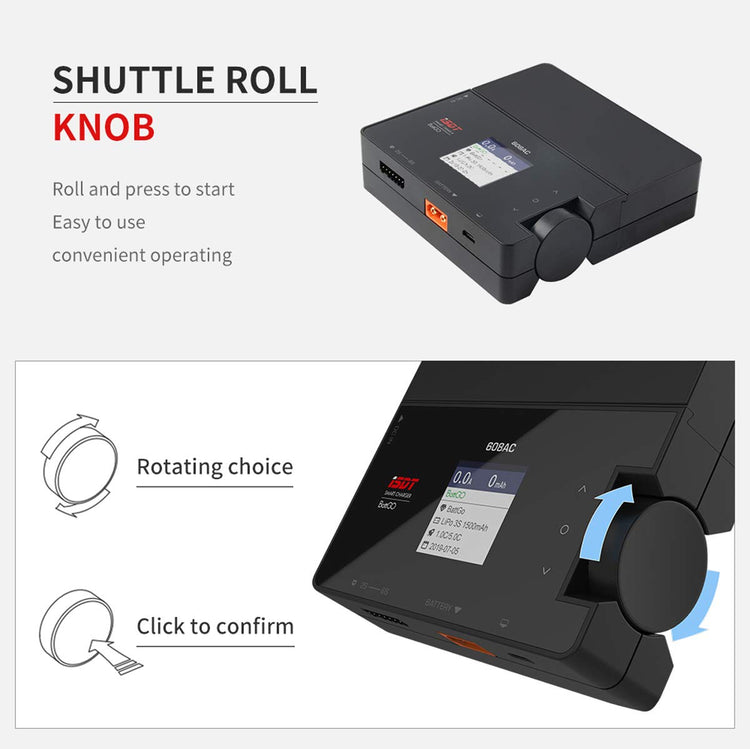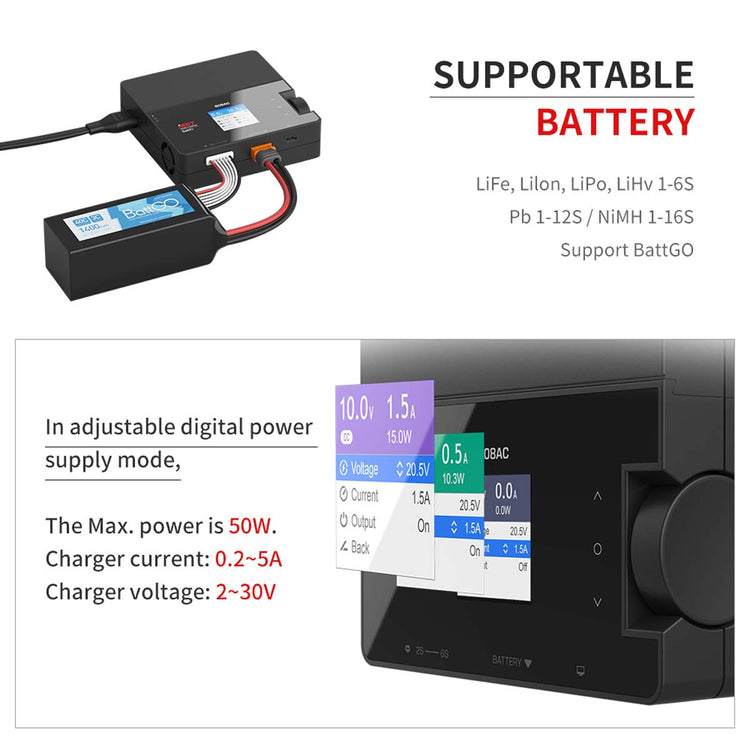 Guarantees
Genuine Guarantee
Fast Processing
Fast Delivery
Official After-sales
Testimonials



Excellent charger, discharger and storage device

I was looking to upgrade my LiPo charger, however was forced to do so when my existing cheap one decided to overheat.

I am so glad that I picked one. There are a lot of other chargers that looks imilar to each other but I'm not convinced about their quality. This ISDT 608AC, however, comes from a reputable manufacturer. It's extremely well made and is actually very simple to operate, with a nice clear display.

Operation is done via the large scroll wheel, which you click the side of to confirm actions.

The instruction booklet isn't overly helpful, but as long as you have some basic knowledge of LiPo batteries, it couldn't be easier to use.

This charges my 2s and 3s batteries easily. You can see each cell charging and get a reading of voltage as they charge. There are also discharge and storage options 3.85v is the recommended amount per cell to store at.

You will need an adaptor to use other batteries such as those with deans connectors, but that's fine as I had a spare lying around. Unlike cheap chargers, you need to plug in the small connector as well as the battery.

This will also charge all other types of battery, such as NiMH...perfect for the odd one that I still use for other purposes.

◀Pugzu Daddy▶
Very clear buy recommendation

I had bought an imax b6 charger. After about 4 months, the problems began, because S3 Lipos always had an error that the lipo was defective (cell 1 was not charged) The Isdt is simply brilliant, all batteries are charged cleanly and quickly. No problems with the alleged broken S3 lipos. Very clear purchase recommendation, built-in power supply, which is removable. The charger can be carried along and operated outdoors with a thick Lipo. My xt30 and xt60 boards, which had banana plugs, I soldered on an xt60 plug and multiple charging also works perfectly.

Arthyr
iSDT 608AC

I like simple things and well...this is what I was looking for! Isdt chargers are the best I have found by a long shot, I would consider this an entry level charger but its super convenient and for field charging its awesome, if you don't need to charge more than 1 battery at a time than I highly recommend this, if you take a bunch of rc cars or drones out at a time your probably not looking here anyway...

AMGpower