C4 Air Quick Battery Charger, 6 Slots USB C Household Battery Charger with Bluetooth APP Connection Function
Regular price

$39.99

Sale price

$28.99
⚡⚡【6-Slot Universal Cylindrical Battery Charger】There are 6 slots, horizontal and vertical, compatible with different battery models. Horizontally, you can charge 4 AA or AAA batteries at the same time, and the maximum size of the vertical slot supports up to 26700.
⚡⚡【Support mobile APP connection】The ingenious design of the APP instead of the display. Enjoy a larger view and a softer touch after wirelessly connecting C4 Air to the APP, which is full of lightness and coolness.
⚡⚡【USB-C input interface】Universal USB-C input port, support QC/PD fast charging protocol, you can plug and charge with the included adapter. With a maximum input power of 40 W, computers and power banks can also act as a power source.
⚡⚡【Multiple Protection】 Automatically adjust charging parameters for best charging performance and multiple protection of batteries. Extend battery life by charging and discharging more judiciously.
⚡⚡【Cooling to Run at Full Speed】For faster and more stable charging, we add a micro fan to keep the machine always cold enough to run at full speed.

Product Descriptions

Model: C4 Air

Maximum input power: 40W

Number of batteries each charge: 1~4 Cylindrical battery

Supported battery size: AAA,AA,10440,10500,

12500,13500,14500,14650,16650,

17650,17670,18650,18700,20650,

20700,21700,22650,26650,26700

*The maximum size of the horizontal battery slot is 51mm, the maximum size of the vertical battery slot is 72mm.

Supported battery types: NiMH, NiZn, LiLon, LiFe, LiHv

Operating voltage range: 5~12V(Compatible with QC、PD protocols)

Charging current range: 0.1~2.0A(horizontal),0.1~4.0A(vertical)

Operating temperature: 0~40℃

Size: 106x73x29mm

weight: 115g

Pack Included:

1 * C4 Air Charger
DELIVERY

For non-pre-sale products, ISDT processes the order within 2-3 working days after the order was placed, once confirmed, we will ship it according to the order time.

We provide 3 shipping methods:

Shipping Method and Estimated Shipping Time:
Standard Shipping: 15-20 working days
Fast Shipping: 7-15 working days
Expedited Shipping: 3-7 working days
The shipping time should be subject to the time announced by the shipping company. Once the products of your order leave our warehouse, the actual delivery may be affected by events which are beyond our control. Thus, we do not assume any responsibility for any delay in delivery due to unexpected logistics related events.

If any logistics delay occurs, you may send an email to isdt0506@gmail.com, and we will do our best to contact the logistics company to help resolve the issue.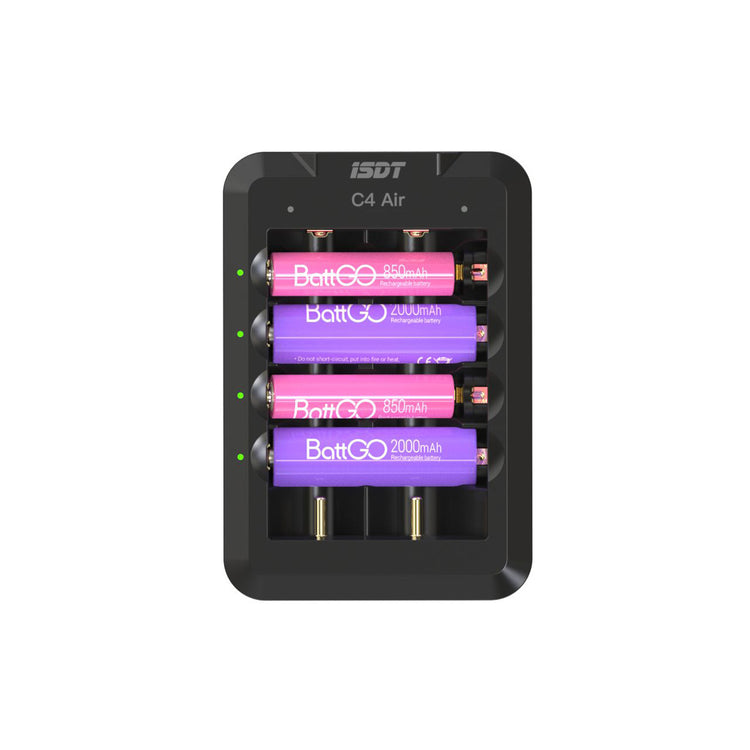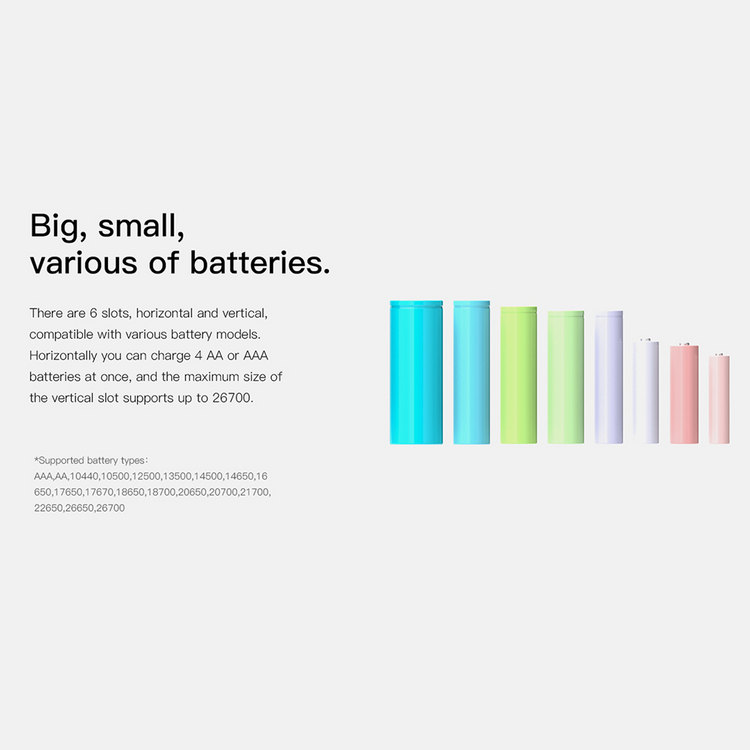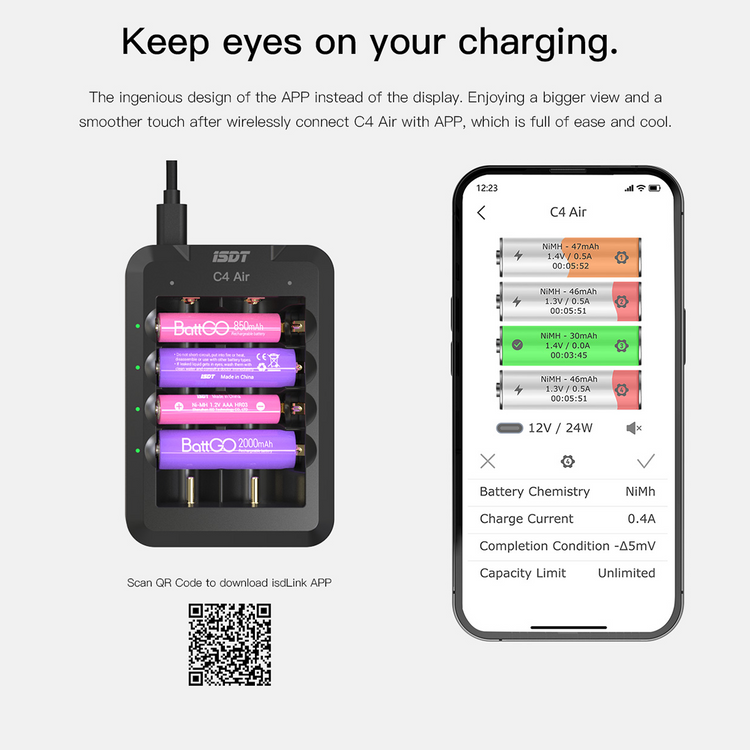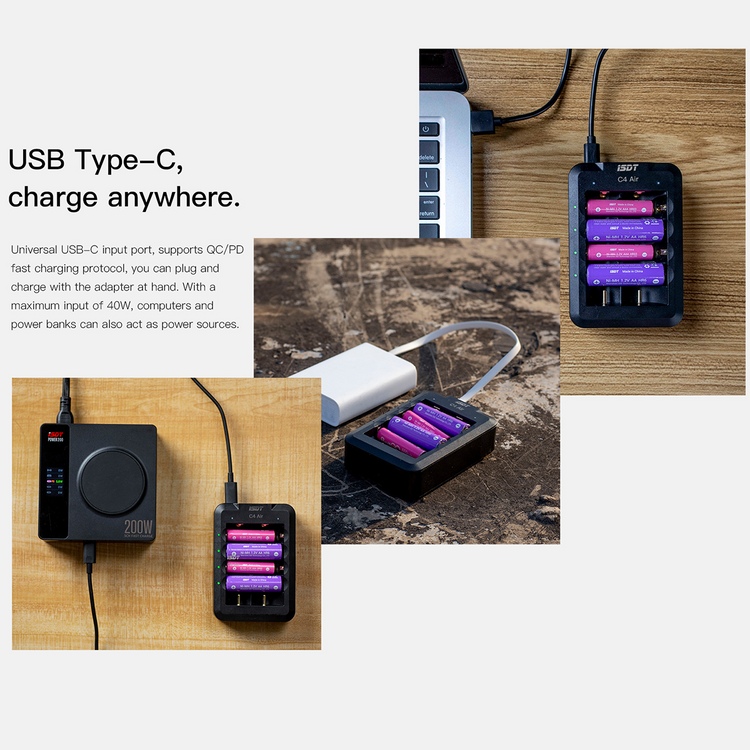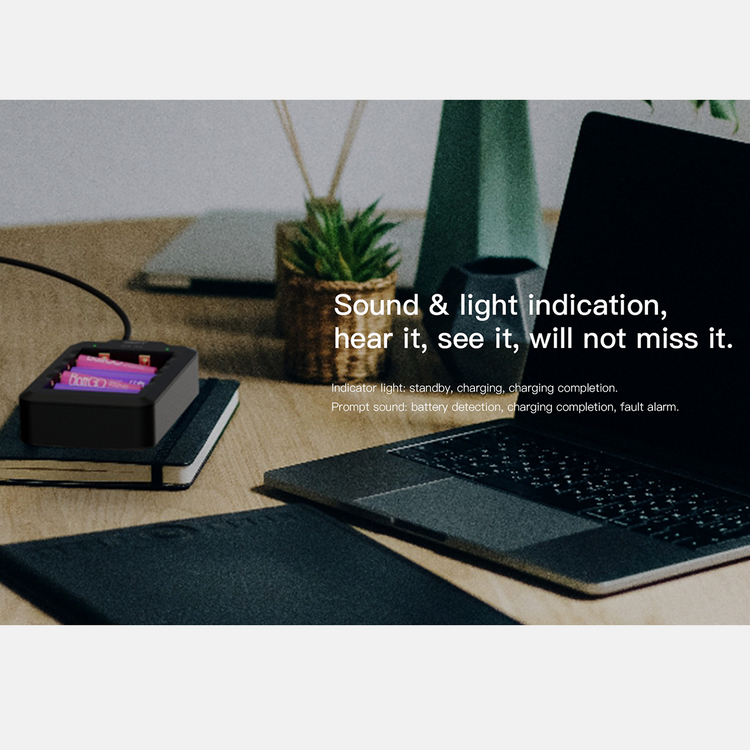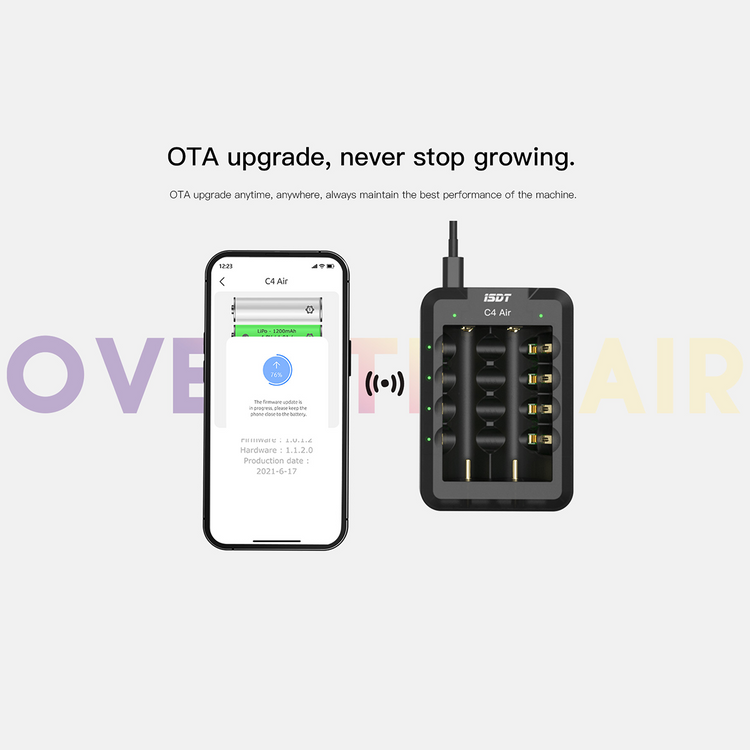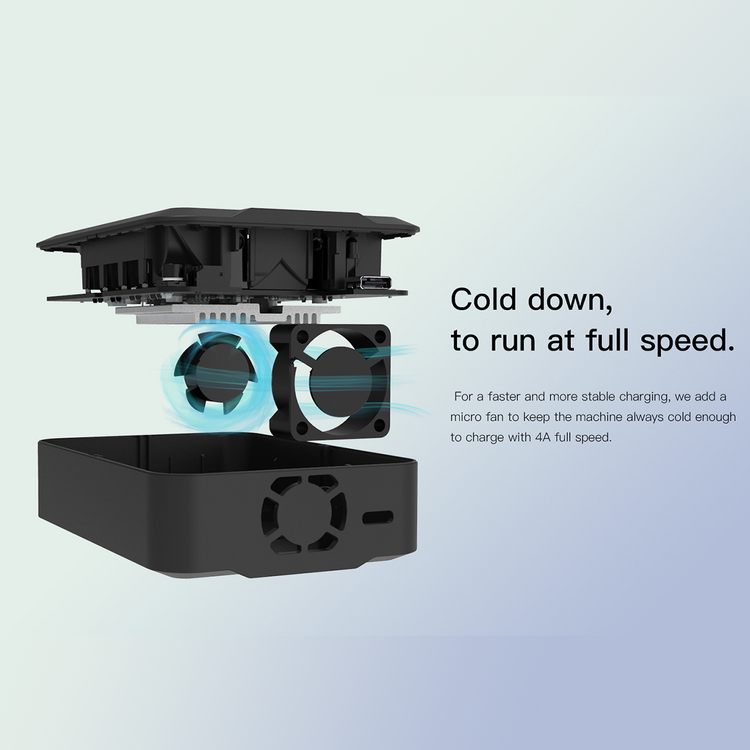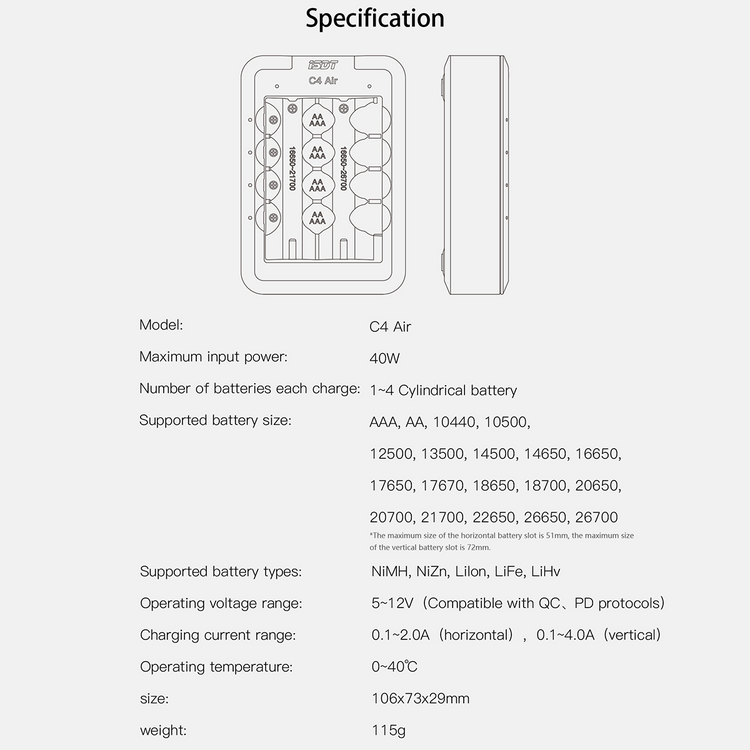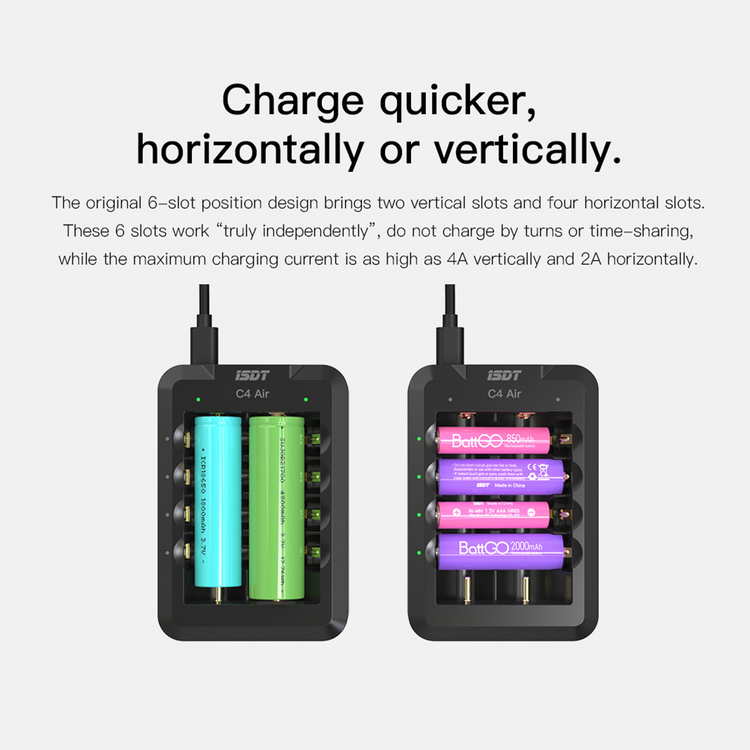 Just a simple charger. Very poor functionality
I would have expected at least all the functionality present on the N8, but this device is totally stupid despite the connectivity with the application. From the application it is not possible to interact in an incisive way. you cannot order the discharge of the batteries, you cannot order a recovery cycle. it is not possible to access the history and the state of health of the batteries.
Guarantees
Genuine Guarantee
Fast Processing
Fast Delivery
Official After-sales
Testimonials
Add customer reviews and testimonials to showcase your store's happy customers.

Author's name
Add customer reviews and testimonials to showcase your store's happy customers.

Author's name
Add customer reviews and testimonials to showcase your store's happy customers.

Author's name
Add customer reviews and testimonials to showcase your store's happy customers.

Author's name
Add customer reviews and testimonials to showcase your store's happy customers.

Author's name