N24 LCD 24-Slot Battery Charger for Rechargeable Batteries, 48W Fast Charger for AA/AAA Batteries
Regular price

$169.99

Sale price

$139.99
【Independent multi-channel quick charge】Larger current independent multi-channel quick charge,Up to 1500mA current output on each slot,90 minutes quick charge.

【Various battery type compatibility】All-in-one control for Li-Ion, LiHV, LiFe, NiMH,NiCd and NiZn batteries Automatic battery type identification with intelligent charge algorithm matching.ATTENTION:The battery type of LiHv,NiZn should be manually selected during the operation.

【Professional work modes】Professional charge cycle activation discharge function,with full color LCD touch panel, bright 2.4" high resolution screen displays current job parameters and battery performance,make charging smarter.

【Aluminium alloy shell】Internal heat-conductive silica gel cooling system integrated into the aluminium-magnesium alloy shell provides improved heat dissipation guaranteeing stable and reliable fast charging and discharging.

【Upgradeable Firmware】Just connect the charger to your computer to update to the latest firmware for best performance and new features.
Specification:
Power consumption: ?6.5 DC socket.
Input voltage: 5-12 V.
Input power: 48 W.
Charging cells: 1-24 AA/AAA cells
Battery type: Li-ion, LiHv, Ni-MH, Ni-Cd, LiFePO4
Charging current: 0.1 A 1.5 A / slot.
Discharge current: 0.1A-1.0A / slotted
Display: 240320 IPS LCD
Operating Temperature: 0C-40C
Dimensions (L x W x H): 428.2 x 79 x 28 mm
Weight: 810 g
Package Included:
1 x ISDT N24 charger
1 x UK Power Adapter
DELIVERY

For non-pre-sale products, ISDT processes the order within 2-3 working days after the order was placed, once confirmed, we will ship it according to the order time.

We provide 3 shipping methods:

Shipping Method and Estimated Shipping Time:
Standard Shipping: 7-15 working days
Fast Shipping: 3-7 working days
Expedited Shipping: 1-3 working days
The shipping time should be subject to the time announced by the shipping company. Once the products of your order leave our warehouse, the actual delivery may be affected by events which are beyond our control. Thus, we do not assume any responsibility for any delay in delivery due to unexpected logistics related events.

If any logistics delay occurs, you may send an email to isdt0506@gmail.com, and we will do our best to contact the logistics company to help resolve the issue.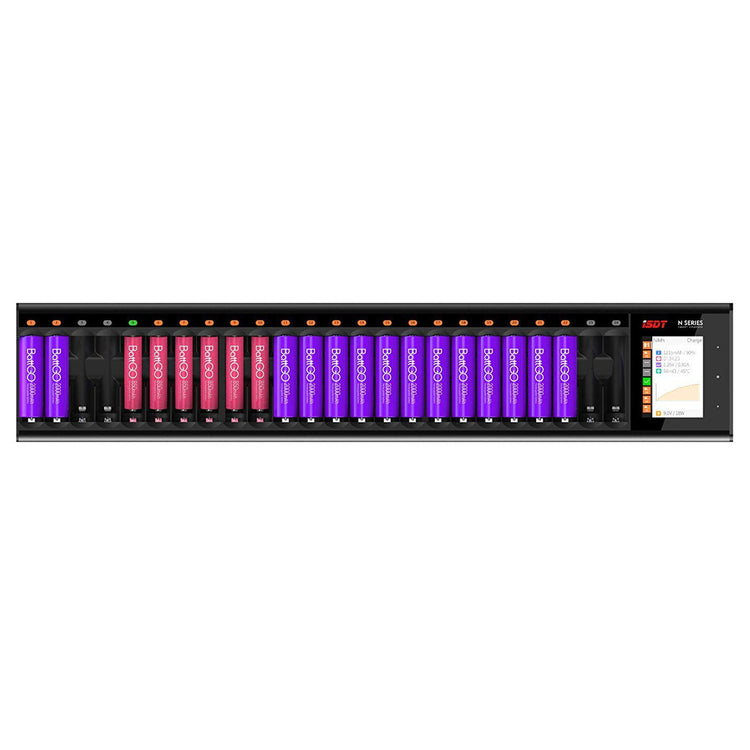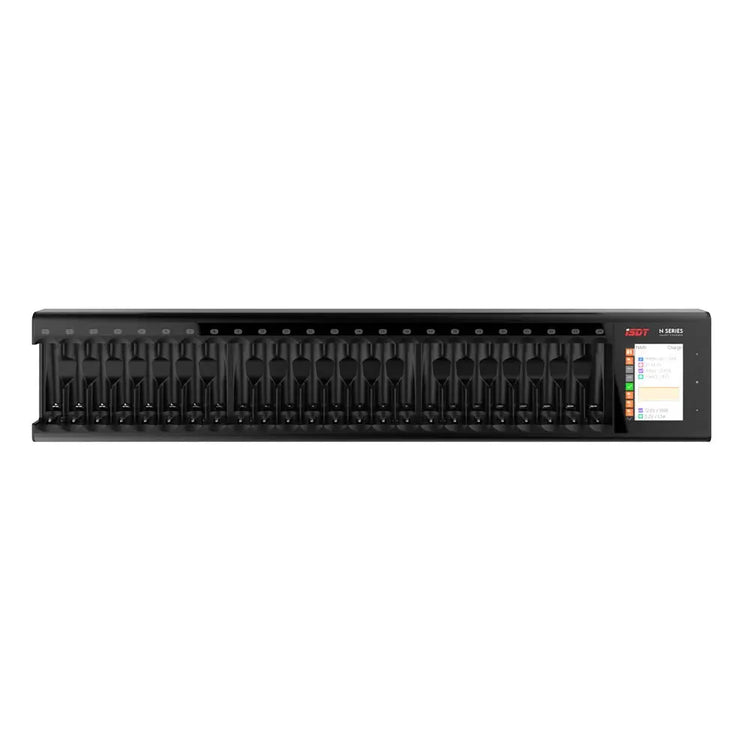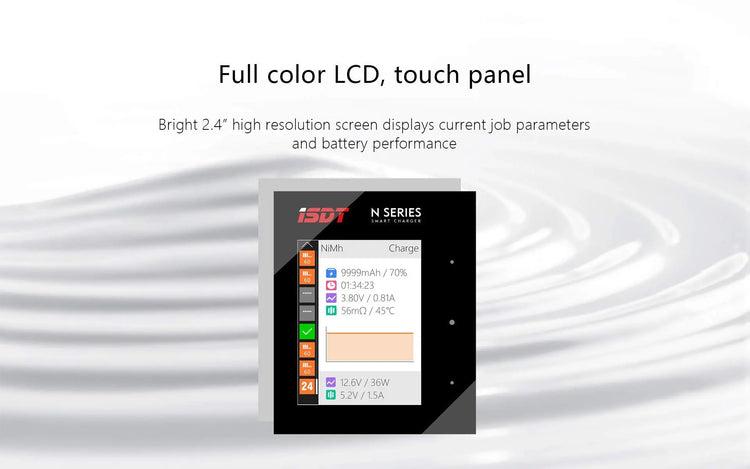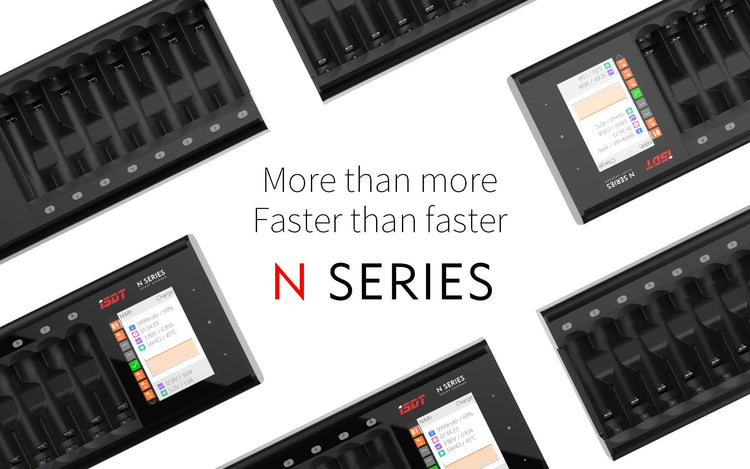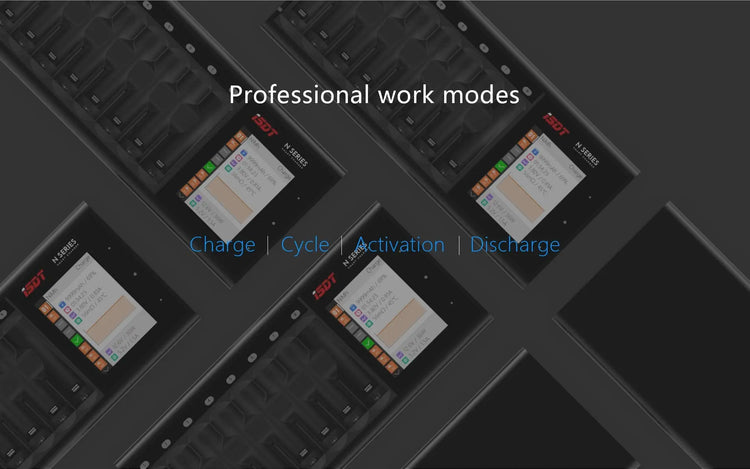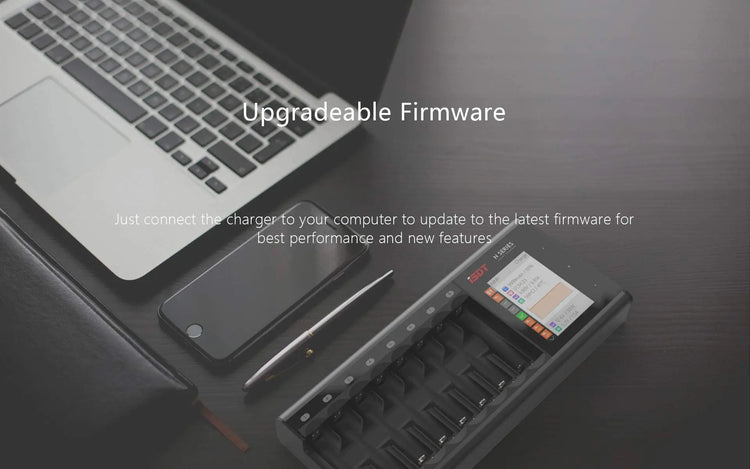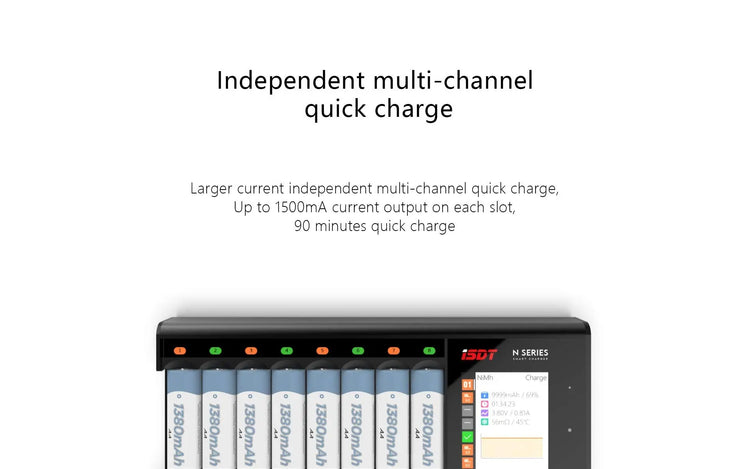 Guarantees
Genuine Guarantee
Fast Processing
Fast Delivery
Official After-sales
Testimonials



Viele Akkus laden und pflegen

Das Ladegerät ist hochwertig verarbeitet. Es kann 24 Akkus auf einmal laden, entladen und pflegen. Die Bedienung ist intuitiv mit Sensortasten zu bewerkstelligen. Eine Anleitung liegt dem Gerät in englischer Sprache bei. Das Ladegerät kann auch verschiedene Akkuchemie laden. Ich verwende es für meine zahlreichen Nickelmetallhydrid-Akkus. Was mich erfreut, es lädt auch ältere Akkus auf wo andere Lader den Ladevorgang verweigern. Das Display ist informativ. Es zeigt den aktuellen Ladestatus in Form einer Ladekurve, die geladene Menge in Milliampere, Volt, Die Zeit und wichtig für mich den Innenwiederstand (interessant bei älteren Akkus).
Das Gerät arbeitet geräuschlos, der Piepser lässt sich in Stufen leiser bis stumm schalten. Auch das Display kann gedimmt werden.
Zum Gerät werden 4 Klebefüße (4 Streifen) mitgeliefert. So steht der Lader fest auf dem Tisch. Die Akkus sitzen fest in den Akkuklemmen.

Ein Akkulader für Leute die viele Akkus laden und pflegen wollen.

Mathias Hering
TOP Gerät

Tut genau was es soll. Absolute spitze. .Selten bis nie so ein Gerät gefunden. 6 Sterne falls möglich .. gruss

Reiner G.
besser als erwartet

Ich habe ein modernes Ladegerät gesucht, dass auch mit Erhaltungsladungen meine Akkus bis zum Einsatz pflegt. Das Gerät macht einen wertigen soliden Eindruck. Es erfüllt voll meine Erwartungen.

Lars Reinke