Air8 Smart Lipo Charger,DC 500W 20A Balance Charger for 1-8S Lipo Batteries
Regular price

$75.99

Sale price

$59.99
▶ 【APP remote control】 - Via ISDLink APP, you can conduct OTA upgrade, preset charging tasks, monitor the charging process at any time,simplify the complexity, convenient and fast.

▶ 【Support BattAir smart battery】 - Support battery interconnection technology, wireless communication. Automatic identification of battery type, automatic matching of optimal charging parameters, one-key direct access, safe and intelligent, saving you time and worry.

▶ 【Support multi kinds battery】 - Air8 support 1~8S Life, Lilon, Lipo, ULiHv batteries, even includes the ULiHv battery with 4.45V/cell.Also support 1~12S Pb battery and 1~16S NiMH/Cd battery.

▶ 【Multiple ways to upgrade firmware】 - OTA upgrade in ISDLink APP, or upgrade on PC by USB port,let you enjoy the latest features of ISDT products anytime, anywhere.

▶ 【A new generation of fully digital power technology】 - Smarter charging method, faster charging efficiency, wider output voltage range, and better battery charging protection mechanism, bringing you a different charging experience.
Product description
Specification:
Charging power: DC 500W
Charging current: 0.1A - 20A
Discharge power: 15W
Discharge current: 0.1A - 1.5A
Input voltage: DC 10V - 34V
Output voltage: DC 1V - 35V
Support battery: Life, Lilon, Lipo, LiHv 1-8S,ULiHv 1-7S, 1~12S Pb; 1~16S NiMH/Cd
Size: 80 x 80 x 34 mm
Weight: 169 g
Packaging included:
1X ISDT AIR8 Charger
Note:
Plugin is not included
DELIVERY

For non-pre-sale products, ISDT processes the order within 2-3 working days after the order was placed, once confirmed, we will ship it according to the order time.

We provide 3 shipping methods:

Shipping Method and Estimated Shipping Time:
Standard Shipping: 15-20 working days
Fast Shipping: 7-15 working days
Expedited Shipping: 3-7 working days
The shipping time should be subject to the time announced by the shipping company. Once the products of your order leave our warehouse, the actual delivery may be affected by events which are beyond our control. Thus, we do not assume any responsibility for any delay in delivery due to unexpected logistics related events.

If any logistics delay occurs, you may send an email to isdt0506@gmail.com, and we will do our best to contact the logistics company to help resolve the issue.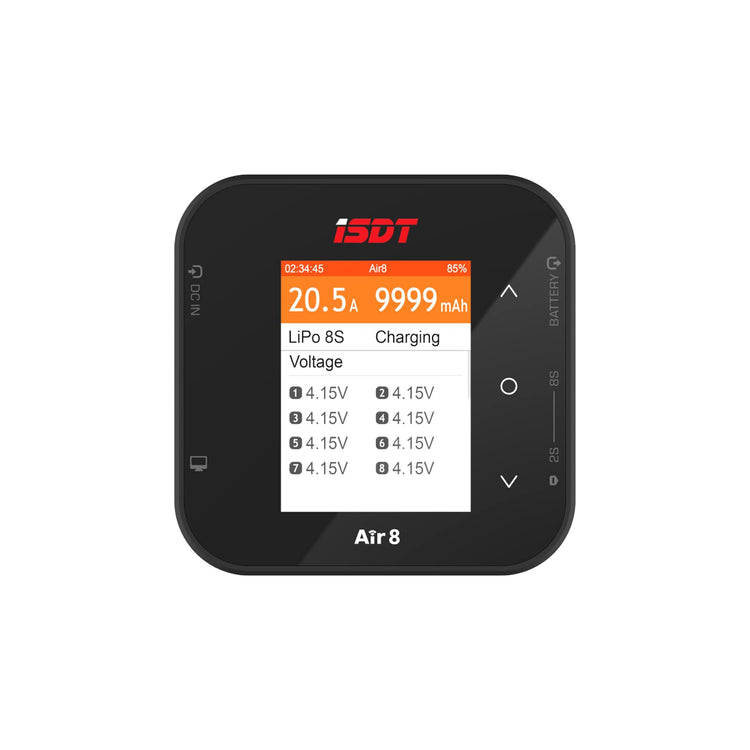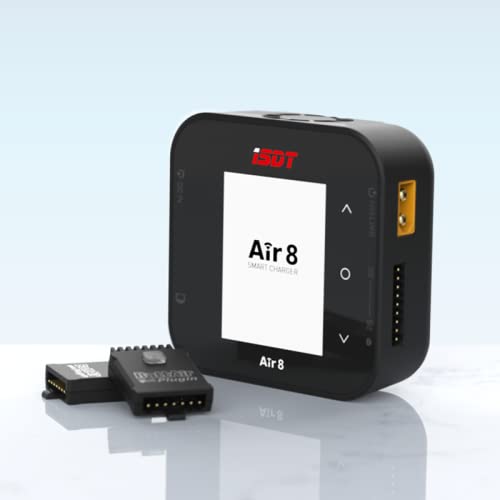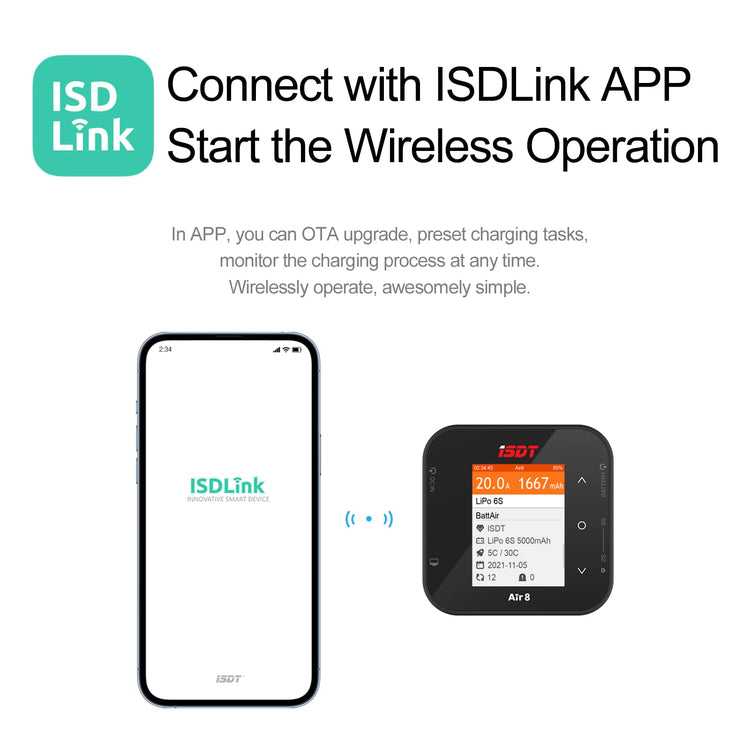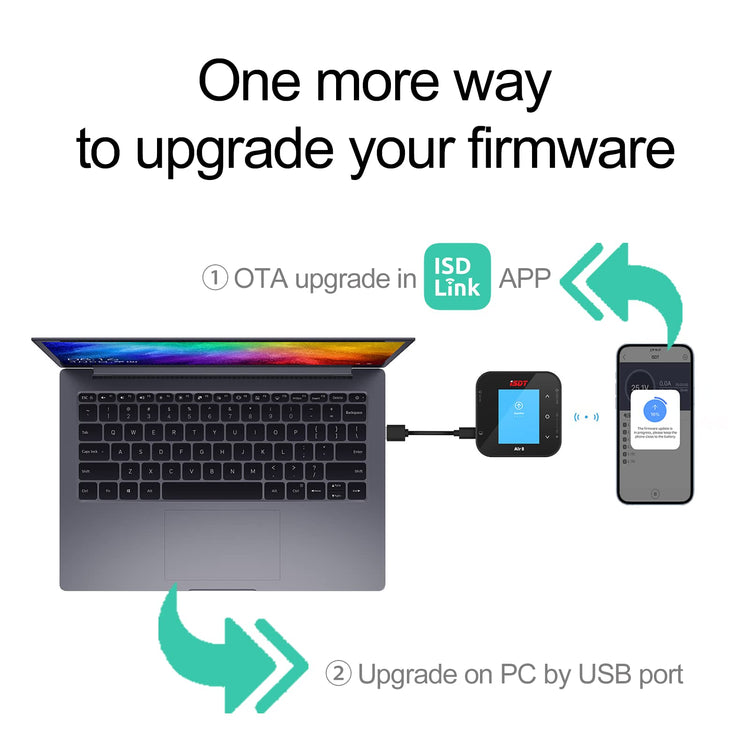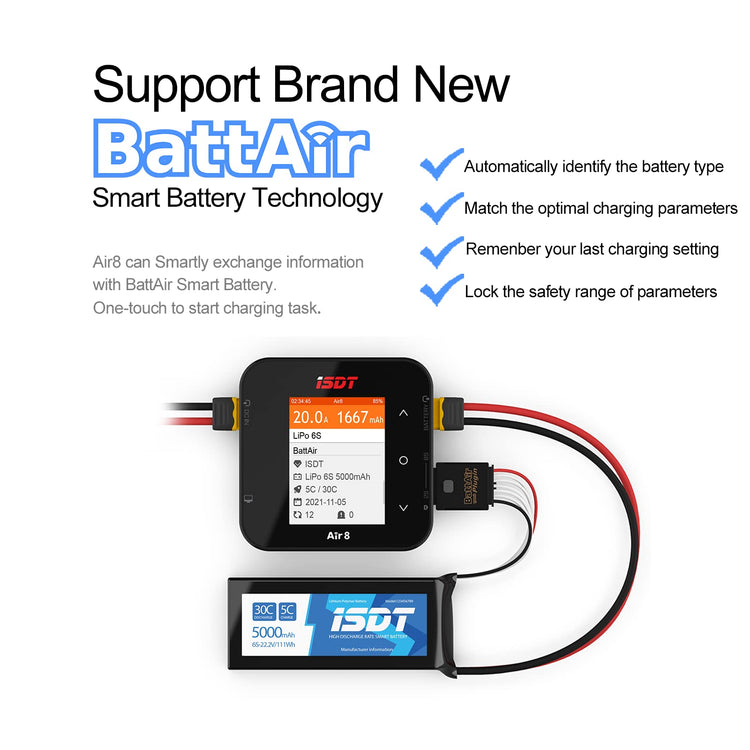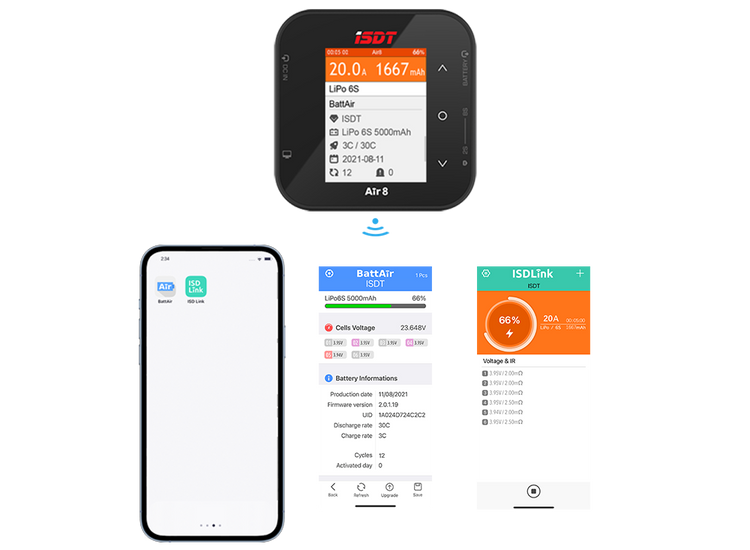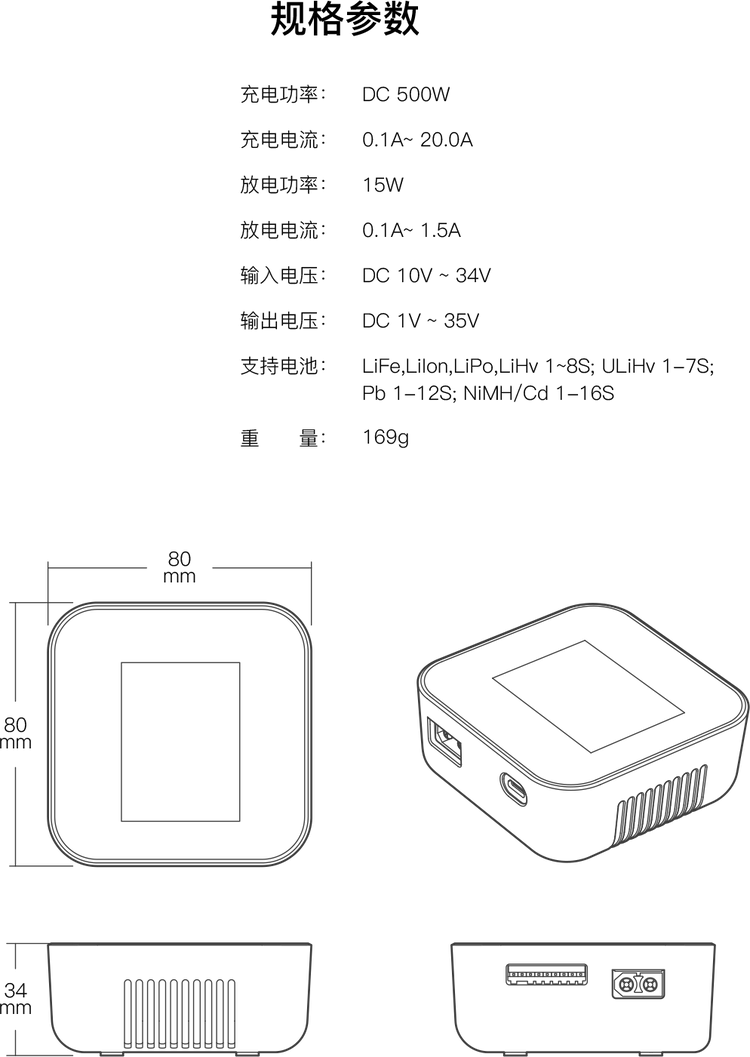 Guarantees
Genuine Guarantee
Fast Processing
Fast Delivery
Official After-sales
FAQs
Is the power supply DC mode or AC/DC dual mode?

The power supply is in DC mode. Parameters: DC 500W
Is there a digital power mode?

Use this text to answYes, it is. In adjustable digital power mode, the maximum power is DC 300W, CC: 0.5~10A, CV: 2~30Ver questions in as much detail as possible for your customers.
Frequently asked questionWhich APP should I download to connect to the mobile phone via Bluetooth?
Testimonials



Small size,Big power!

Don't be fooled by the small size. Charges a 5000 mah 3s lipo in 15 min

norcalrc
Great little charger

A great basic charger with capabilities to charge precisely.

Cody King
Great charger!

Really good charger for all kinds of battery chemistries. I really like this charger, fan is a bit loud though...

Ax.