NP2 Camera Battery Charger,NP-FZ100 NP-FW50 NP-BX1 Smart Charger for Sony Batteries
Regular price

$49.99

Sale price

$38.99
【Independent Dual Channel Hybrid Quick Charge】 -- Fully automatic identify 3 battery type, matching optimal charging scheme Intelligence.Patented stackable battery compartment design with two independent charging channels, supporting multiple ways of hybrid charging.

【Wide-Angle IPS LCD】 -- Battery parameters、charging state and abnormal information display clearly on screen. Internal battery performance evaluation system, controlling of battery health status in real-time.

【Perfect Compatibility】 -- Made to the exact specification of NP-BX1 battery, compatible with Sony Cyber-shot DSC-HX50V,DSC-HX300,DSC-HX400,DSC-RX1,DSC-RX1R,DSC-RX100,DSC-RX100 II, DSC-RX100M II,DSC-WX300,HDR-AS10,HDR-AS15,HDR-AS30V,HDR-AS50R,HDR-AS100V,HDR-AS100VR,HDR-AS300R,HDR-CX240,HDR-MV1,HDR-PJ275,FDR-X3000,FDR-X3000R,RX100 VI,DSC-RX100M6,A6000, A6500, A6300, A7, A7II, A7RII, A7SII, A7S, A7S2, A7R, A7R2, A55, A5100,A5000, RX10 Accessories.

【USB Type-C Power Input】 -- Priority allocation of charging power, maximum support QC 3.0 18W quick charge. Automatic identification compatible with various specifications of USB power adapters.

【7 Major Protection】 -- Comprehensive protection: over-current protection, over-charge protection, over-capacity protection, over-temperature protection, abnormal battery monitoring, abnormal internal resistance monitoring, over-discharge battery repair.
Product Specifications
?Power input interface: USB Type C
Input voltage range: 5-12V
Compatible USB power sources: 5V/1.0A, 5V/2.0A, QC 2.0/3.0
Maximum charge current: 1.5A/Slot
Maximum power: 18W
Charging modes: normal mode, fast mode
Compatible battery models: NP-FZ100, NP-FW50, NP-BX1
Display resolution: 240 X 240 IPS LCD
Working temperature0C - 40C
Dimensions (LxWxH): 112 x 91 x 33.5mm
Compatible Camera Battery list
NP-FZ100, NP-FW50, NP-BX1
ILCE-7M3, ILCE-7RM3, ILCE-9, ILCE-6000, ILCE-6300, ILCE-6500, ILCE-5000, ILCE-5100,
ILCE-7, ILCE-7M2, ILCE-7S, ILCE-7SM2, ILCE-7R, ILCE-7RM2, ILCE-QX1
DSC-RX10, DSC-RX10M2, DSC-RX10M3, DSC-RX10M4
NEX-C3, NEX-F3, NEX-3N, NEX-5C, NEX-5N, NEX-5R, NEX-5T, NEX-6, NEX-7
33, 35, 37, 55, 3000
DSC-RX1, DSC-RX1R, DSC-RX1RM2,
DSC-RX100, DSC-RX100M2, DSC-RX100M3, DSC-RX100M4, DSC-RX100M5, DSC-RX100M6
DSC-HX350, DSC-WX500, DSC-HX90, DSC-WX350, DSC-HX60, DSC-H400, DSC-HX400, DSC-HX50, DSC-HX300
HDR-CX405, HDR-PJ410, HDR-MV1, HDR-AS300, FDR-X3000, HDR-AS50, HDR-GWP88E, HDR-CX240E, HDR-PJ240E
HDR-AS200V, FDR-X1000V
Package Includes:
1 x 2-Channel Battery Charger
1 x Type-C Cable
(The batteries is not included.)
DELIVERY

For non-pre-sale products, ISDT processes the order within 2-3 working days after the order was placed, once confirmed, we will ship it according to the order time.

We provide 3 shipping methods:

Shipping Method and Estimated Shipping Time:
Standard Shipping: 7-15 working days
Fast Shipping: 3-7 working days
Expedited Shipping: 1-3 working days
The shipping time should be subject to the time announced by the shipping company. Once the products of your order leave our warehouse, the actual delivery may be affected by events which are beyond our control. Thus, we do not assume any responsibility for any delay in delivery due to unexpected logistics related events.

If any logistics delay occurs, you may send an email to isdt0506@gmail.com, and we will do our best to contact the logistics company to help resolve the issue.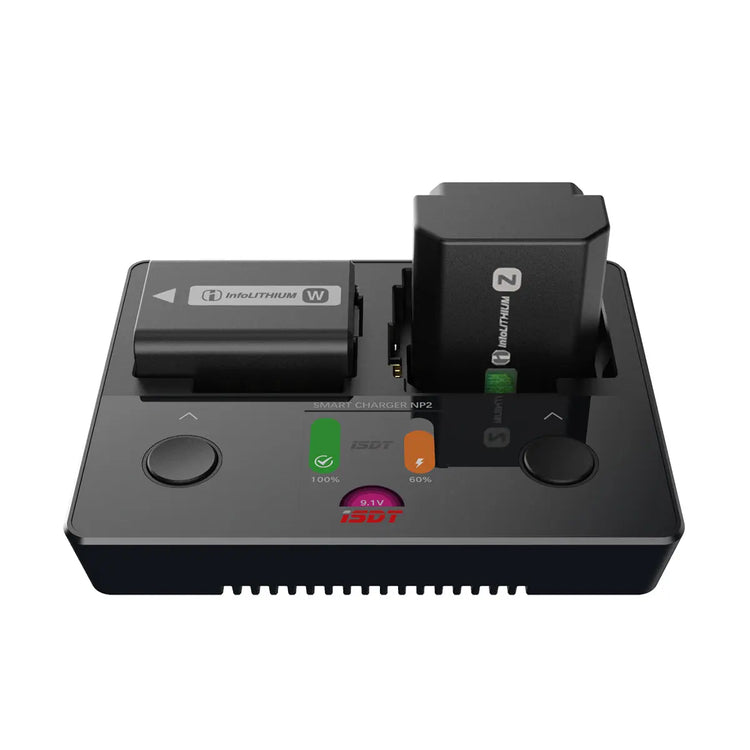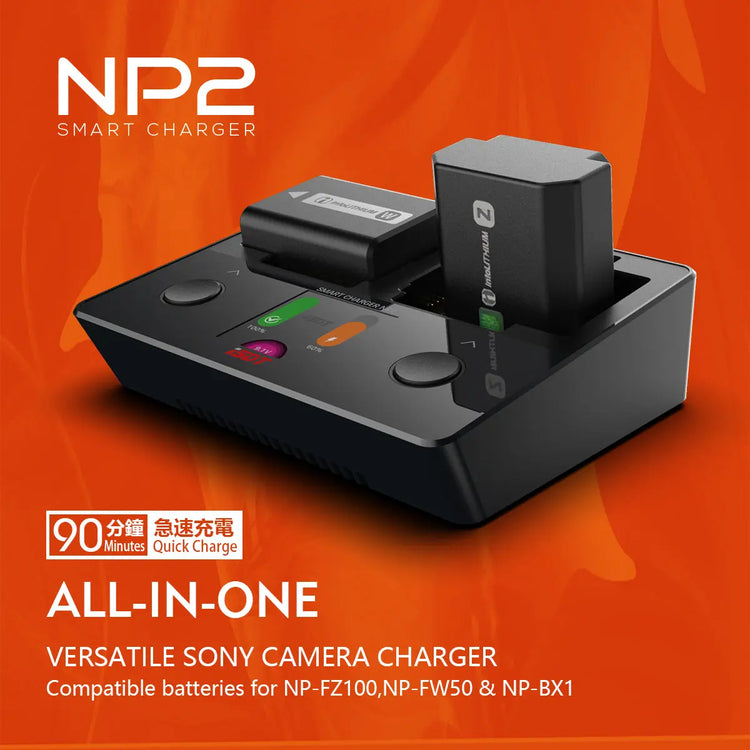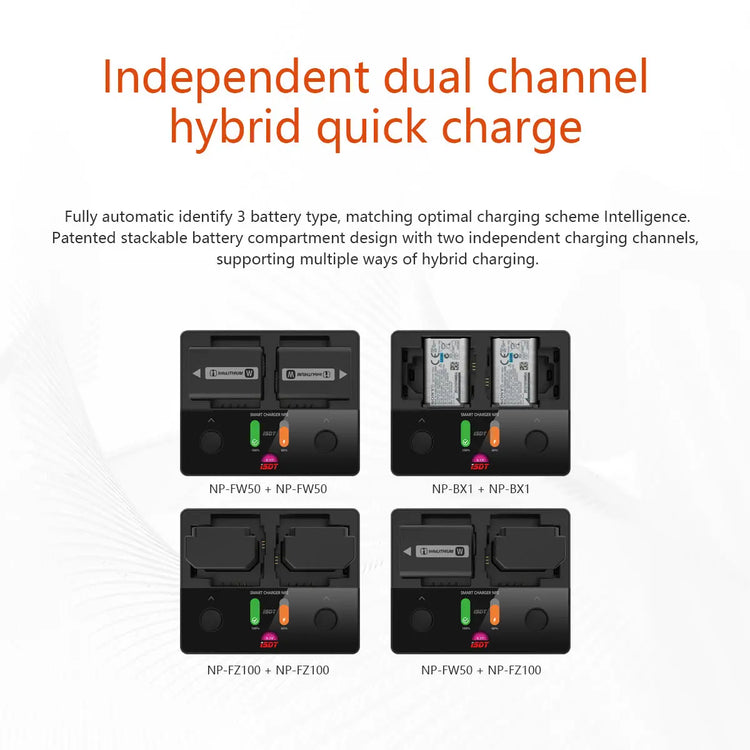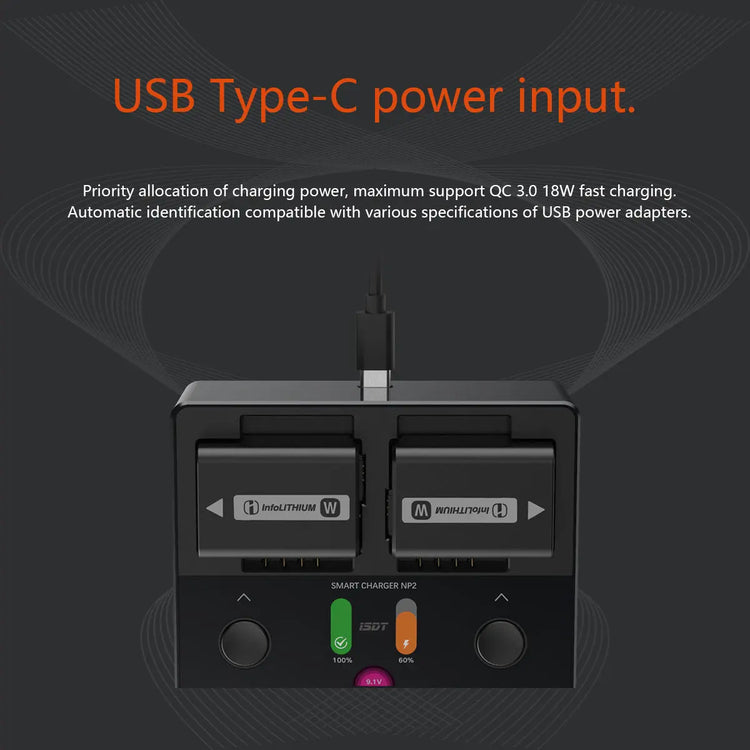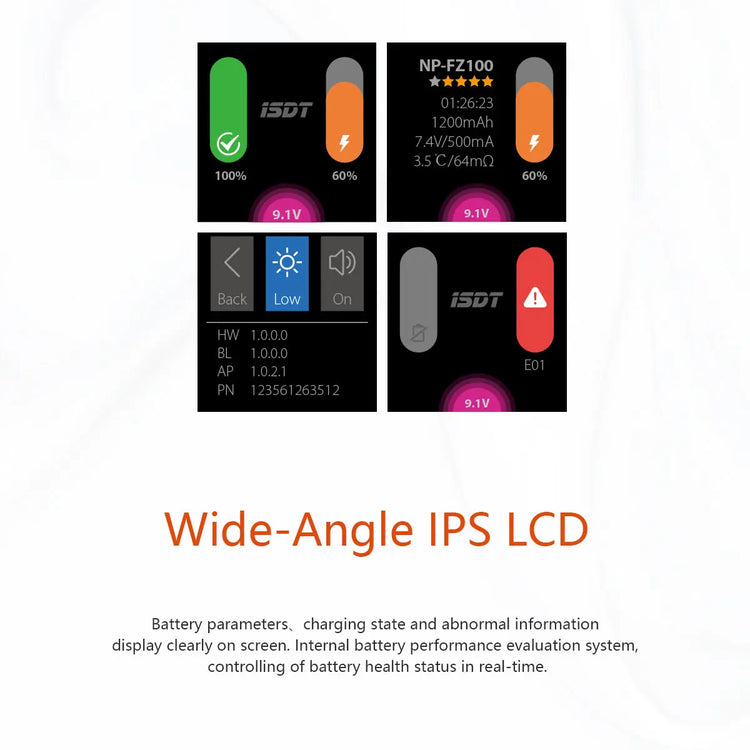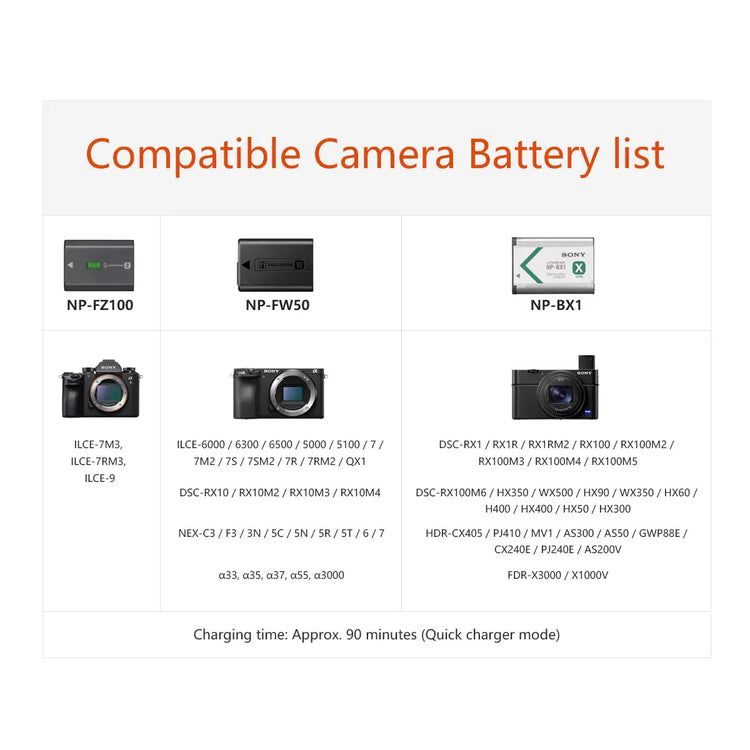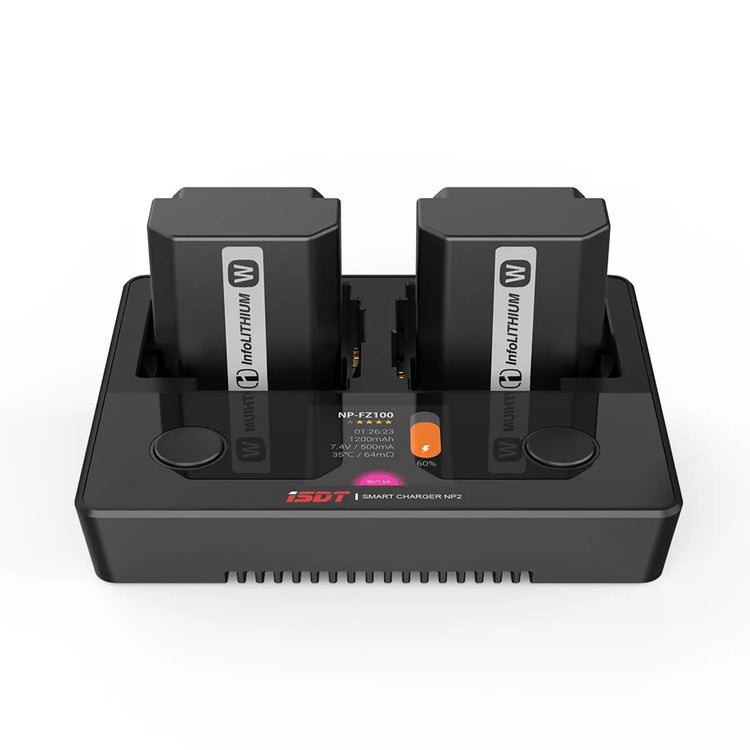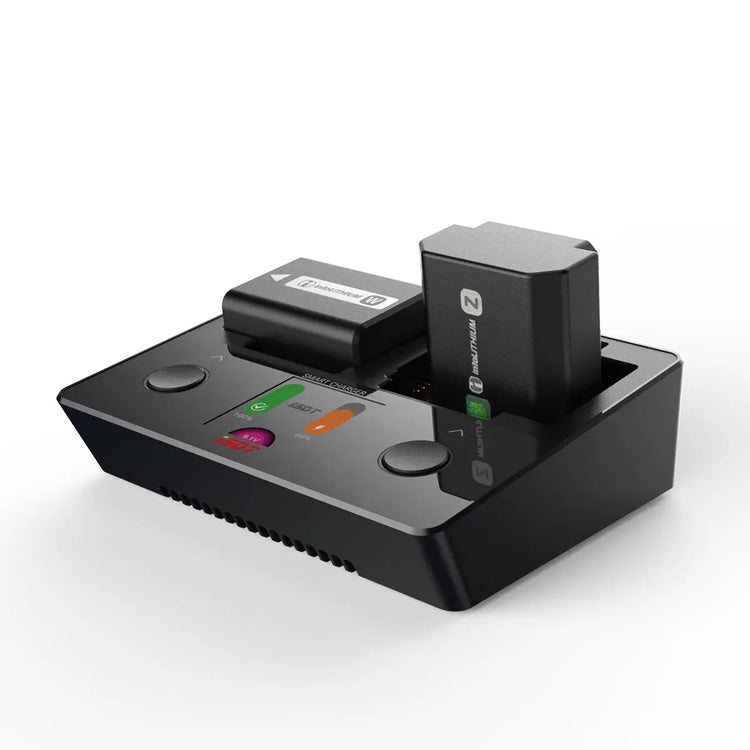 Guarantees
Genuine Guarantee
Fast Processing
Fast Delivery
Official After-sales
Testimonials



My best Sony battery charger - I already have 2.

For a while this company stopped making them, I needed another one, so I'm happy it's back in stock. This charger allows you to charge all Sony a7 iii, siii, iv, etc. batteries, however it also has a special charging position for the older small Sony batteries for the Sony a7sii which some of us still have. The digital display is really accurate and the audio notification for a charged battery allows you to pop yet another one as soon as the current one is done charging. The dual charge is great - notice that when you use the 2.4 amps it charges even faster.

NivNiv
Amazing little charger!

I love this little guy- it'll charge 3 different types of Sony batteries, 2 at a time. The LCD screen is THE BEST I've ever seen on a charger and to have this kind of quality at this price is just awesome.

The only thing l wish was different is the power cord... it's a flimsy usb charging cable.

Totally worth the money and worth buying several of if you're a filmmaker.

Matt Rifley
Dual charging, triple battery type support, great set of features. Recommended!

I have owned this charger for 11 months. I have put it through many dozens of battery charging cycles, and so far, it has performed flawlessly. I happen to have Sony cameras accepting all three types of supported batteries: NP-BX1, NP-FW50, NP-FZ100. I find it convenient that this device allows me to replenish two batteries simultaneously, plus I can also mix and match different types!
This charger sports a color LCD, which is bright and easy to read. With a simple button push operation, you can see the current charging info: voltage, resistance, etc., it puts out to the battery, but most important for me: it shows the battery health rating. I do appreciate this last feature. I find it super helpful to know when to replace an aging battery and/or not get caught with a dead camera while out there shooting.
As for the downsides... The unit comes with a USB-C to USB A cable in the box. If you have a more modern USB-C charger, you will need to invest in a separate USB-C to USB-C cable. That was not a big deal for me, but I feel it has to be pointed out. One more thing, I can not seem to make it work with QC chargers. I am not sure which device is at fault here, but a couple of QC 3 rated chargers I have and tried do not make any difference at all ¯\_(ツ)_/¯
Having said that, I am pretty happy with my purchase and would highly recommend every serious Sony camera owner to give it a try.

Pros:
* Works equally well charging three types of Sony batteries: NP-BX1, NP-FW50, NP-FZ100
* Simultaneous and independent dual charging
* Modern, bright display, showing a bunch of helpful info, including battery health rating
* Easy, straightforward operations
* Audible beep signal confirming button presses, battery insertion/removal, and marking the end of charging cycle

Cons:
* Comes with USB-C to USB A cable only
* QC might not be working as expected

Oleg Ovechkin