X16 Lipo Charger,1100W x 2/20A x 2 Dual Channel Lipo Charge and Discharge Cycle Balance Charger for 2~16S Batteries
Regular price

$699.99

Sale price

$612.99
【High Power Multifunctional Lipo Charger】- Support 2~16S LiFe, LiPo, LiHv, ULiHv batteries,Ultra high voltage lithium battery with 4.45V battery cell voltage can charger easily.Dual-channel parallel charging, the maximum total output power is over 2200W.Support battery charge and discharge cycle (Max. discharging power: 50W × 2, Balance current: 1.5A/Cell), making your battery more durable.

【Support Bluetooth connection function and mobile operation】 - X16 can connect to mobile devices via Bluetooth. Control the charger to perform tasks or view detailed parameters of each channel in "isdGO" app. You can also preset charging tasks in the app and use one button charging instead of tedious charging steps. The OTA upgrade is easily.

【Safe and Stable】- Built-in 1200W high-power independent dual power supply, With short-circuit protection, overload protection, under-voltage protection, over-voltage protection, over-temperature protection, Support AC 120V & AC 220V voltage input. Two channels work independently and stably, which can be independent or combined. Provide constant current for X16 stability.

【Synchronous Parallel Charging】Built-in High Speed Processor Synchronous. Balance two channel charging. Maximum Parallel Charging power up to 1800W(@220V AC),let you really experience fast charging (X16 deliver charging current range from 21~35A).

【2.8 Inch LCD Sunscreen】Low power consumption, IPS screen Auto-brightness adjustable, 178° visible angle Display clear and distinct Even in varies hard environment or angles as well as in strong sunshine.
Input voltage: AC 100~240V
Output voltage: DC 10~72V
Charging current: 1.0~20.0A ×2
Discharging current: 0.5~3.0A ×2
Max. charging power: 1100W ×2(@220V AC)
800W x2(@110V AC)
Max. discharging power: 50W ×2
Balance current: 1.5A/Cell
Supported battery types and cell count: LiFe,LiPo,LiHv,ULiHv (2~16S)
Abnormal voltage alarm: Support
Incorrect cell count setting alarm: Support
Working temperature: 0℃~40℃
Storage temperature: -20℃~60℃
Dimension: 276×246×82mm
Weight: About 3.5kg
Packing Included:
1 x ISDT X16 Lipo Charger
DELIVERY

For non-pre-sale products, ISDT processes the order within 2-3 working days after the order was placed, once confirmed, we will ship it according to the order time.

We provide 3 shipping methods:

Shipping Method and Estimated Shipping Time:
Standard Shipping: 7-15 working days
Fast Shipping: 3-7 working days
Expedited Shipping: 1-3 working days
The shipping time should be subject to the time announced by the shipping company. Once the products of your order leave our warehouse, the actual delivery may be affected by events which are beyond our control. Thus, we do not assume any responsibility for any delay in delivery due to unexpected logistics related events.

If any logistics delay occurs, you may send an email to isdt0506@gmail.com, and we will do our best to contact the logistics company to help resolve the issue.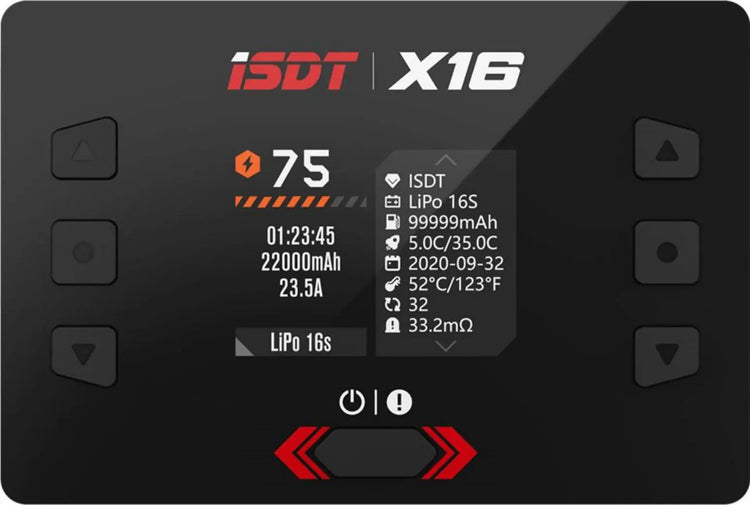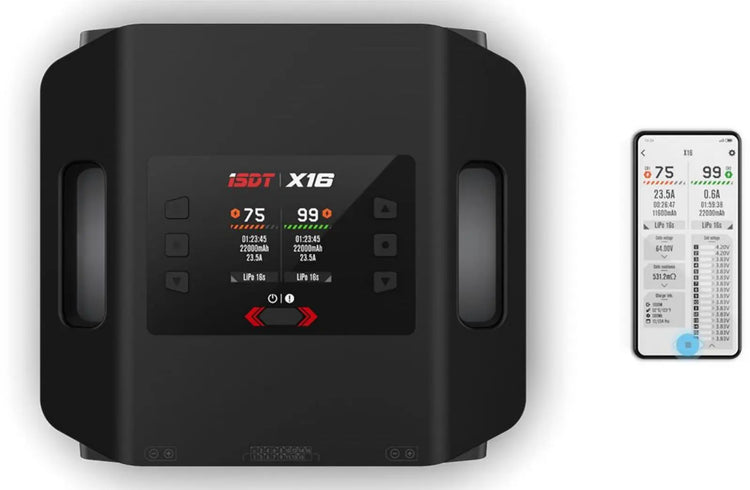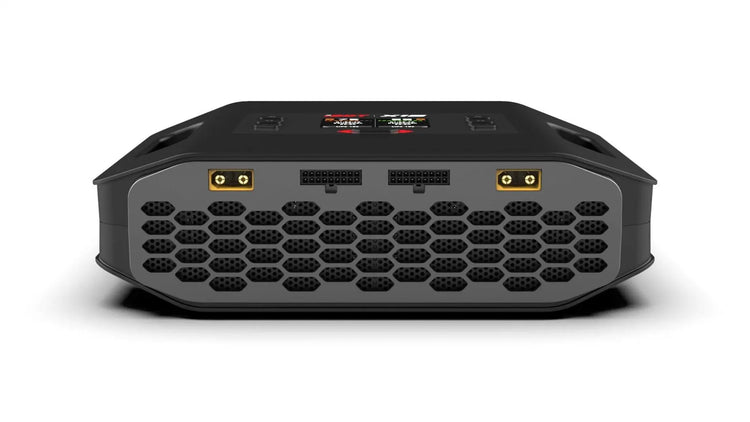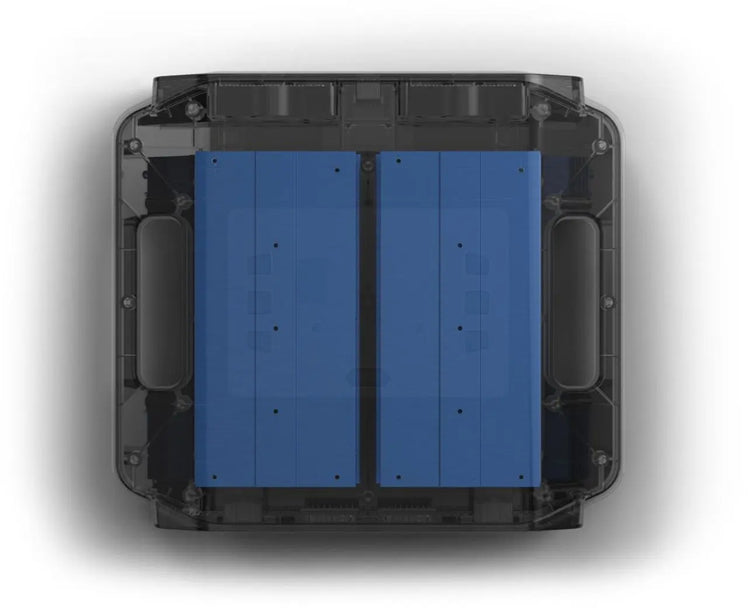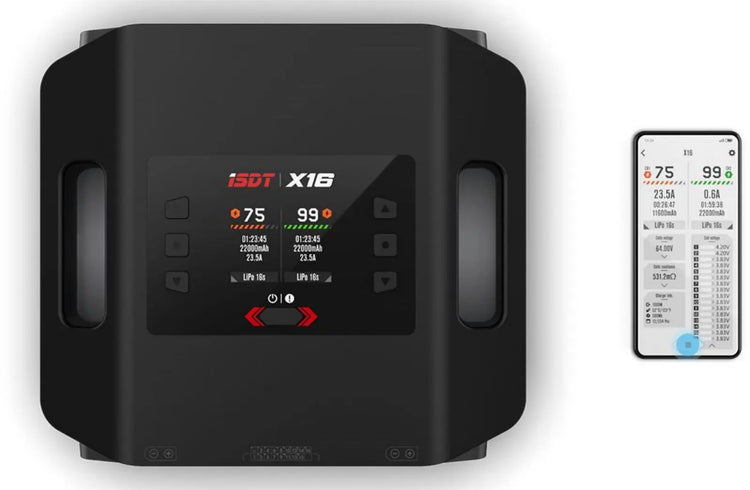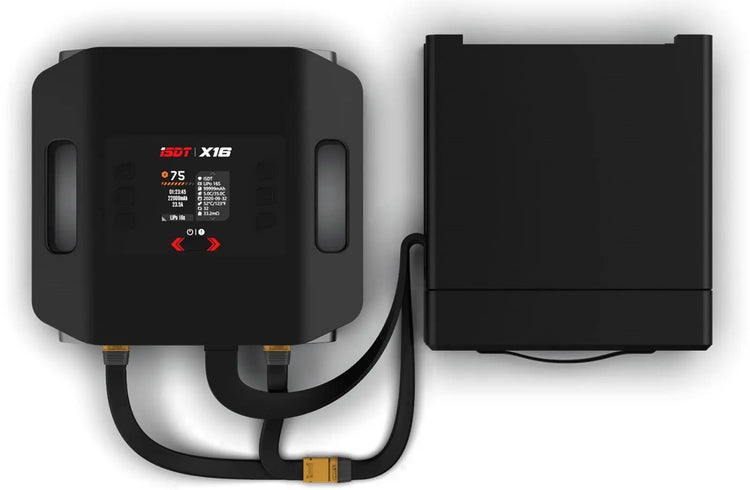 Guarantees
Genuine Guarantee
Fast Processing
Fast Delivery
Official After-sales
Testimonials



perfect for my 200v electric trike currently i use 8 ISD dt8 at 25 amp setting for all 8. I would love 4 of these if i can get the output 25amp per side

joseph t
Nice!!! Just ordered two boards on your site. I have some questions about charging two 6s together in parallel or series if you have time for me to pick your brain for a few minutes.

Scott Graham
This is perfect for my Mobula 6 1s 300mAh lipo. I'll be picking up an XT90 to PH2.0 connector.

Dogsidog007