ISDT K4 LiPo Charge/Discharge Cycle Mode Charger,AC 400W DC 600Wx2 Smart Remote Mobile Operation Charger
Regular price

$249.99

Sale price

$219.99
▶【AC/DC Dual Modes Lipo Charger】:Our lipo charger has AC 400W/DC DC600Wx2 dual input model with Independent dual channel,charging current:30AX2,Max.Input current:60A.Advanced crafty cooling air duct for high efficiency heating dissipation.K4 can acquire latest firmware upgrading,ensure the charger have optimalized performance and latest firmware all the time.

▶【ISDT K4 Smart Display】:Full color LCD,touch panel,it will show the whole charging process for batteries,with large screen displaycan show voltage,current,charging time,mode,battery type,internal resistance and battery capacity that charged,easy setup and manual operation modes.

▶【K4 Charger Multi-Function】:It supports BattAir BT connecting and mobile operation,comes with Li-ion and LiPO balancing,fast charging,data storage,cycle charging,discharging function.It will automatically stop charging after full charged.

▶【ISDT Charger Various Battery Type Compatibility】:All-in-one control for LiFe,LiIon,LiPo 1~8S;LiHv,ULiHv 1~7S;Pb 1~14S;NiMH/Cd 1~18s batteries,automatic battery type identification with intelligent charge algorithm matching.

▶Multi-Application: Aluminium alloy shell with good handfeel and nice apperance,our product can widely used in RC plane/RC drone,portable power,portable devices,remote control car etc.Auto adjustmentfeature on charging parameters and auto safety shut-off for best charging performance.To help extend battery life with more reasonable.
Product description
Specifications:
Input voltage: AC 100~240V / DC 10~30V
Output voltage: DC 1~30V
Max. input current: DC 35A
Charging current: 0.2~20A x2
Discharging current: 0.2~3A x2
Balance current: 1.5A/Cell Max
Max. discharging power: 30W x2
Max. charging power: AC 400W / DC 600W x2
Abnormal voltage alarm: Support
Incorrect cell count setting alarm: Support
Supported battery types and cell count: LiFe, Lilon, LiPo 1~8S, LiHv 1-8S, Pb 1-12S, NiMH/Cd 1-16S
Parallel charging power and current: 800W/35A
Parallel discharge power and current: 30W/3A
Working temperature: 0~40℃
Storage temperature: -20℃~60℃
Dimension: 142x135x64mm
Weight: About 700g
Packaging included:
1X ISDT K4 Charger
DELIVERY

For non-pre-sale products, ISDT processes the order within 2-3 working days after the order was placed, once confirmed, we will ship it according to the order time.

We provide 3 shipping methods:

Shipping Method and Estimated Shipping Time:
Standard Shipping: 7-15 working days
Fast Shipping: 3-7 working days
Expedited Shipping: 1-3 working days
The shipping time should be subject to the time announced by the shipping company. Once the products of your order leave our warehouse, the actual delivery may be affected by events which are beyond our control. Thus, we do not assume any responsibility for any delay in delivery due to unexpected logistics related events.

If any logistics delay occurs, you may send an email to isdt0506@gmail.com, and we will do our best to contact the logistics company to help resolve the issue.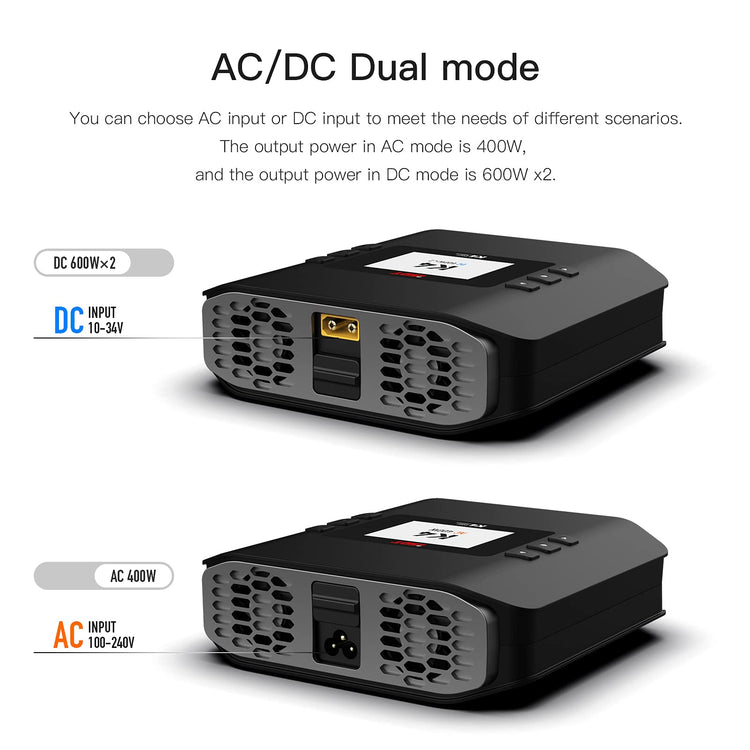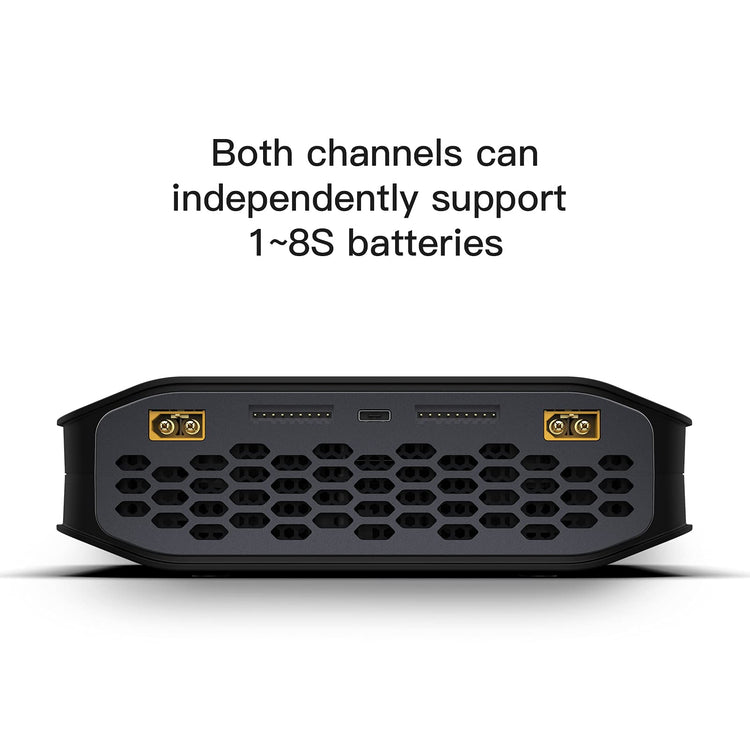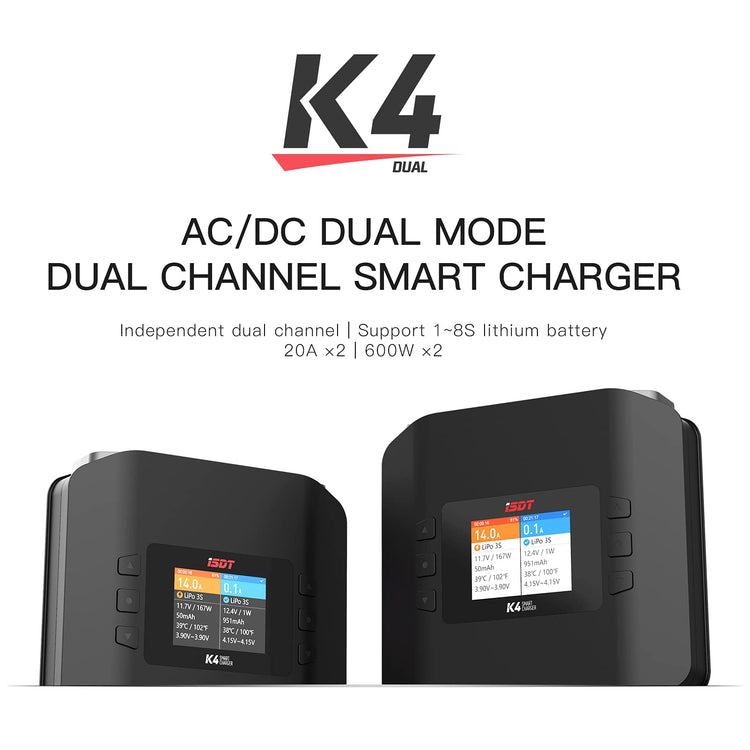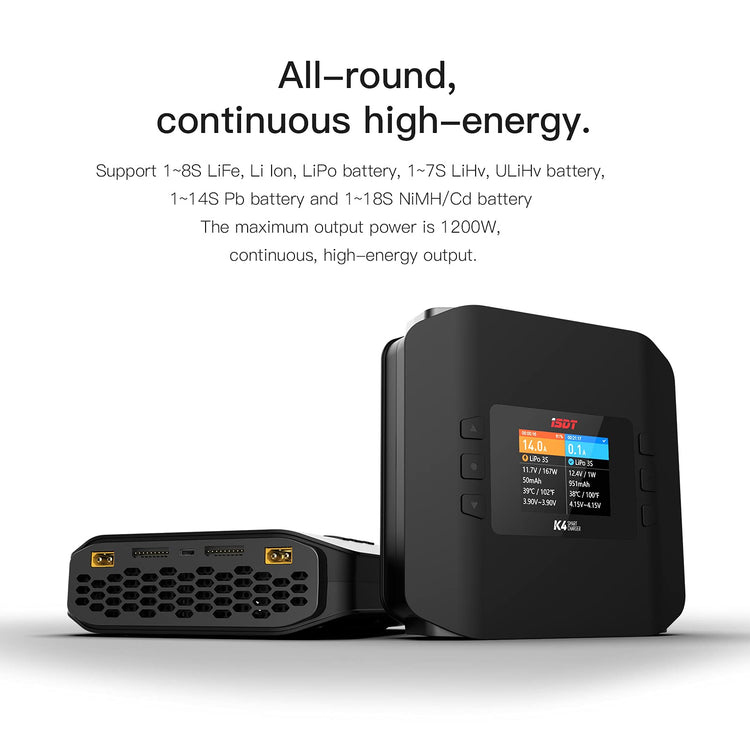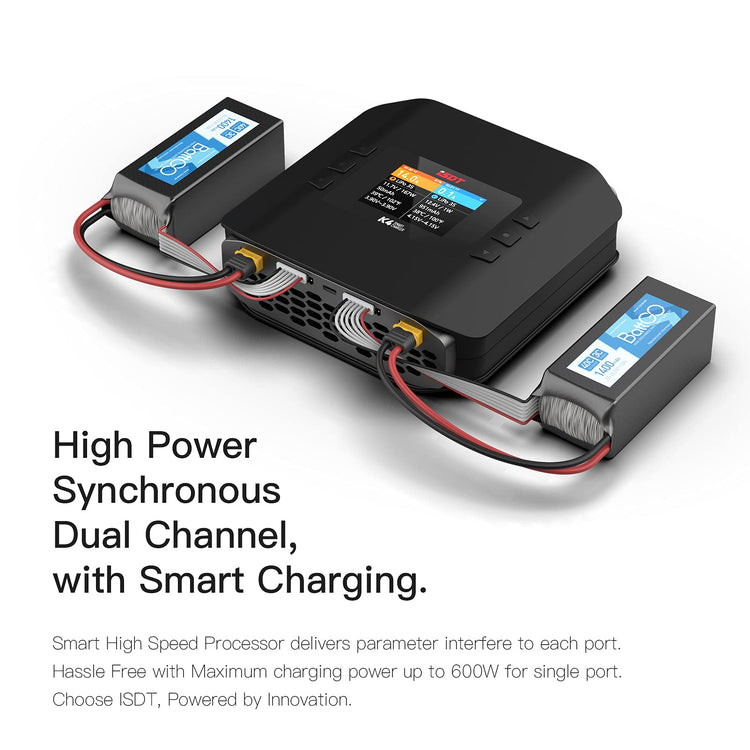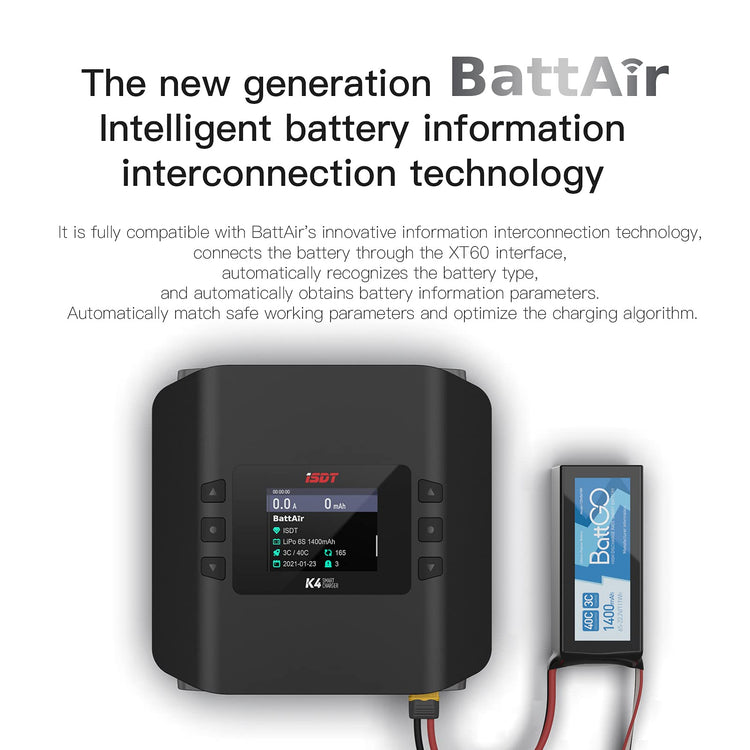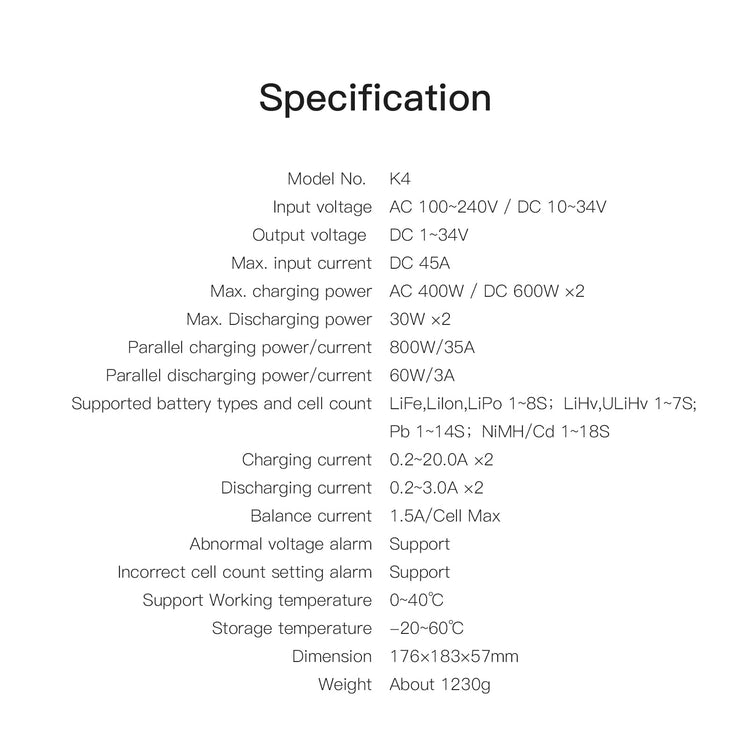 Guarantees
Genuine Guarantee
Fast Processing
Fast Delivery
Official After-sales
Testimonials



Avis isdt k4

Employé pour l'aeromodelime, à part le câble d'alimentation, aucun autre câble n'est fourni.
Dommage.

pierrotm777
Cargador isdt k4

Un cargador excelente con entrada de Ac a 230v con una excelente potencia de 400w y entrada de alimentación externa que con una fuente de alimentación adecuada que de 45/50A se pueden conseguir 1200w (600w por canal)

JR
magnifique

produit parfait test de charge ok

Eric VALIERE